Initially, AssignmentLand.co.uk looks and feels like a professional looking custom writing service that aims to provide students with the much-needed solutions that enables the students to free up some of their workload that allows them to concentrate on the more important things in life, such as free time, a balanced social life, attending lectures or maintaining a part-time job.
Best Academic Writing Services in the UK

AssignmentLand – Rating 6.0
Table of contents
Website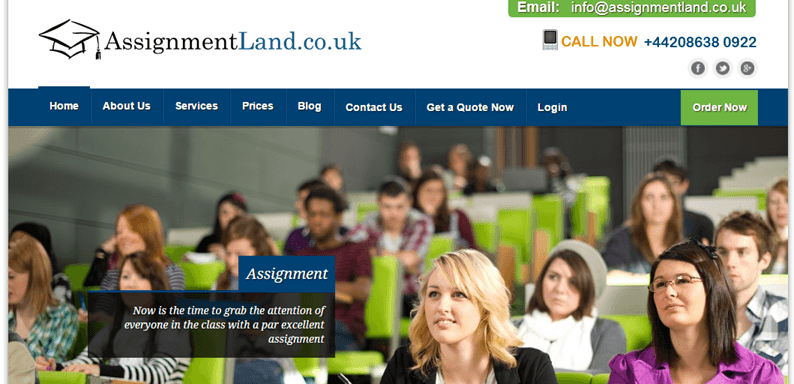 The first impressions of the website are relatively decent. There are all the pages you would expect from a writing service provider and everything on the homepage is nicely spaced out. Unfortunately, even scrolling down the homepage, or clicking on any of the pages, you'll be quick to notice that it's full on filler text that constantly repeats itself and doesn't provide any real value to the reader. There is also no easy way to order straight for the homepage, meaning students must navigate to the order page.
Services

The only way to find a complete services list is by clicking on the order page and continuing through the order to choose their required service. The services page is, as mentioned above, full of filler text that could easily be replaced with a simple services table. All the main services are covered by the site but it's missing a lot of the more niche assignment types, meaning students looking for a regular, all-rounded solution, are better off going elsewhere.
Prices

The pricing on Assignment Land is very expensive, especially when compared to some of the more comprehensive, marketing-leading sites. According to the pricing page, a ten-page essay with a 48-hour deadline will set you back a whopping £335, and that's a standard quality. Users can opt to have a premium standard, shorter deadlines and proofreading edits etc, but all these services will considerable increase your bill. Students on a tight budget may not want to fork out this amount when there are cheaper services available.
Quality
There is no testimonials page online to view feedback on previous work that the site has completed. This leads me to doubt the credibility of the website. After searching online, I found mixed reviews on the work the site provides, some were average and acceptable whereas others complained about non-native English writers, some high levels of plagiarism and even some cases of re-sales, all of which are unacceptable for a writing service website.
Customer service
There are many available contact methods to communicate with the company should you need to. You can contact the company via phone, email and even the live chat feature on the site. It's worth noting that the number is a UK mobile number, therefore international students outside the UK should be warned that they may be charged extremely high phoning rates. There are links to their social media pages although there is very little activity on these pages.

AssignmentLand.co.uk review

Conclusion

Gloria Kopp

Although AssignmentLand has the foundation to be one of the key players in writing services industry, it still has a long way to go. By lowering prices, drawing its attention to quality and updating the website itself to become more streamlined and precise, students would receive a great service. In the meantime, students will be much better off visiting one of the more renowned sites.
Rating: 3