If you're a student and you're finding it hard to complete all your set assignments while in school, college or university, don't worry, you're not alone. Many students are facing the same problem, which is why so many custom essay writing services have been created.
However, there's now so many to choose from; it can be so difficult to find the best one for you. During your search, you may have come across WordsDoctorate.com. Is this the one you've been looking for?
Top Rated Dissertation Writing Services

WordsDoctorate – Rating 3.5
Table of contents
Services – 3/10

It's rather difficult to find out the exact services that the website offers since there is no dedicated services page. In the toolbar, you'll find PhD assignments, Master's essays and journal papers but there's definite list as to what that entails.
By going through the order system, you'll find a drop-down menu with a list of the main services. However, there are only 12 services on offer, meaning some students won't be able to find or order what they're looking for.
Pricing – 2/10
The pricing system on WordsDoctorate leaves me feeling uneasy. Instead of having a pricing page or a quote calculator, you must submit a request for an order request, rather than just finding out what your service costs.

This means the service can basically charge whatever they want and will quote you on an individual basis. From my personal experience, this almost always means high prices that many students on a tight budget won't be able to afford.
Content Quality – 3/10
Additionally, there is no dedicated review or testimonials page on the Words Doctorate website or any reviews for this matter. This is very suspicious.
Searching online, I soon discovered that past customers of the service had very little positive things to say about the service.
They claim that many of their assignments were incomplete when delivered, had high levels of plagiarism, weren't written by native English speakers and obviously hadn't been proofread before sending.
Customer Service- 6/10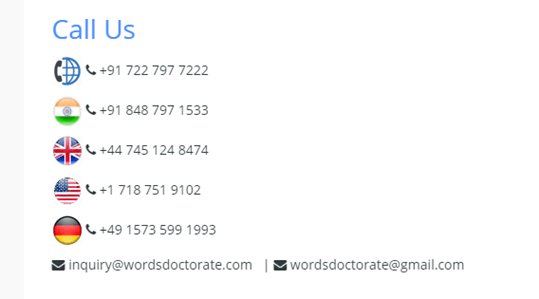 Despite the high prices and the poor quality of the content, there a lot of customer services options available. There's a live chat feature on every page of the website, as well as five dedicated phone numbers for different parts of the world.
There are also two email addresses, social media links but no Skype or video call opportunities.
WordsDoctorate.com review

Conclusion

Gloria Kopp

All in all, I was very disappointed with the service that WordsDoctorate.com provided. The prices are bound to be far too high, the quality is simply non-existent, and although the customer support options are there, there is still a complete lack of happy customers so I simply cannot recommend this site.
Rating:
3.5