Before you sign up for an account with an essay-writing service, you want to know if you'll be getting top quality work. Luckily, there's plenty of information available on most of these services before you create an account. I went and had a look at USAWriters.org to see how they perform in this arena.
Best Academic Writing Services

USAWriters – Rating 5.0
Table of contents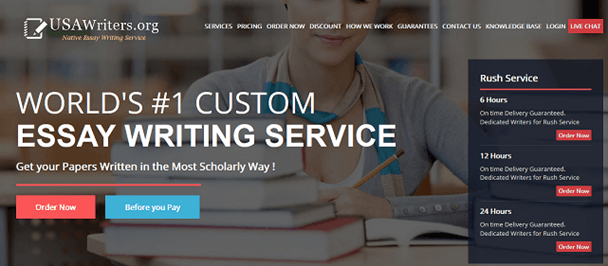 Services – 5/10
USA Writers do offer a wide range of services to undergraduates, graduate students, and PhD students, everything ranging from admissions essays to full theses. They do not, however, offer anything for high school students or have any business services.
The site also maintains a Knowledge Base of guides to writing college essays. These included topics such as how to write a literature review and mistakes to avoid in a research paper.

Pricing – 4/10
One of the most important things about any essay-writing service is the price. Is USA Writers value for money? I ran a quote for a 5-page paper, due in 24 hours, for an undergraduate student, using their Premium Writer services. They offered me two prices: a "before discount" price of $185.96 and an "after discount" price of $171.08.
Honestly, I found both prices eye-wateringly expensive, discount or not, and way beyond my budget. There is, however, a possibility of extra discounts available on the site, as well as codes and promotions for signed-up users.
Content Quality – 6/10
With such high prices, is the quality good? There are no samples or testimonials available on the website, so it's quite difficult to tell just from looking at the site. I did notice a fair few typos in the website itself, and I do wonder if the people that wrote the site copy were in fact native English speakers themselves.
I turned to Google to find out more about USAWriters, but came up unfortunately empty for the most part. This raises the suggestion in my mind that the site isn't actually very well-known and hasn't been used much by real students.
Customer Service – 5/10
As far as customer service and ways to contact the site go, I noticed that there was a Live Chat service available. There's also a support email and phone number. The site has its headquarters in New York. I also saw that there were icons for social media sites, but none of them actually went to the social media sites in question.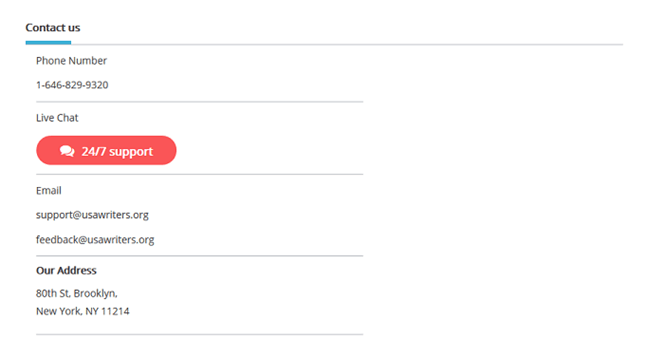 USAWriters.org review

Conclusion

Gloria Kopp

I was impressed with USAWriters.org range of services and informed knowledge database. However, I was decidedly not impressed by their prices, and I found the fact that they seem to be a mystery to the rest of the internet concerning. I would generally prefer to go with a site that was a fair bit cheaper and had an established reputation.
Rating:
2.5