Do you ever find yourself in the position where you've been so busy with your school work, perhaps working a part-time job or even just trying to maintain a positive work/life balance that you overlook the fact you've got an essay due and realized there's no time to complete it?
Don't worry, you're not alone, and this happens to students all over the world. Hence why there are so many custom essay writing services, just like United Essays, to choose from.
However, you'll want to make sure that you're choosing the right service, so you get the grades you deserve. So, let's jump into UnitedEssays.com to see whether this is the right service for you.
Best Academic Writing Services

UnitedEssays – Rating 3.5
Table of contents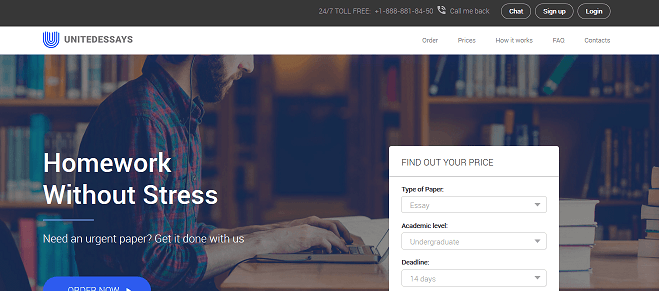 Services – 4/10
It's easy to see whether your desired service is available using the easy-to-use order form on the homepage of the website. While there are around 30 or so services to choose from, you'll quickly realize that there are only three academic levels to choose from, meaning if you don't fall into this category, you'll already need to start looking for another website to use.
Pricing – 4/10
Using the order form, or the pricing page, you can work out an accurate quote for your assignment, allowing you to see how much you'll need to pay. The price is determined based on the assignment type that you're looking for and the academic level. This is then multiplied, depending on the deadline you require your content, the more urgent being more expensive.
To give you a guideline on what prices are like, a standard essay written to a Bachelor's degree with a six-day deadline will set you back around $20 per page, which is an extortionate amount, especially when compared to sites of a similar caliber.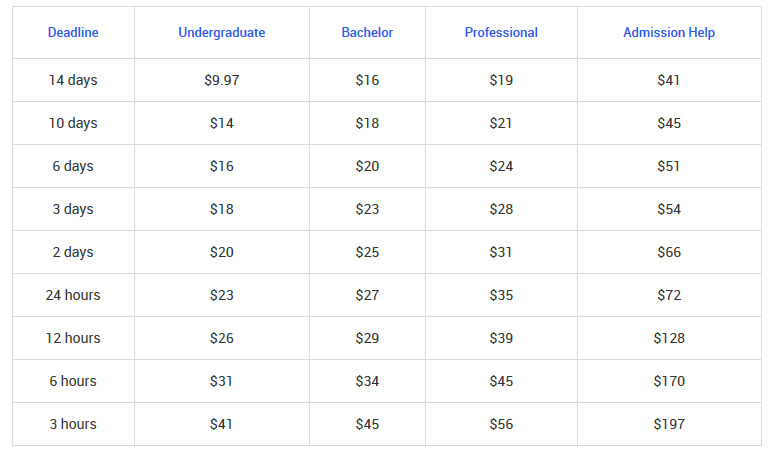 Content Quality – 4/10
There is a very poor collection of testimonials on the website. While there's no dedicated page, they can be found by scrolling down the homepage. However, you'll only find 1-2 sentences reviews, none of which have dates and could, therefore, be years out of date and no longer relate to the service provided. Searching online, I discovered a range of mixed reviews, some claiming the website was 'okay'.
Customer Service – 2/10
There is an extremely limited number of ways to get in contact with the UnitedEssays service, both pre and post sales. There's a toll-free US phone number, a call-back option, a basic email form and a support email address.
However, there are no dedicated departmental support lines, no international phone numbers, no live chat, nor is there social media links, making getting in contact with the company a lot harder than you might think.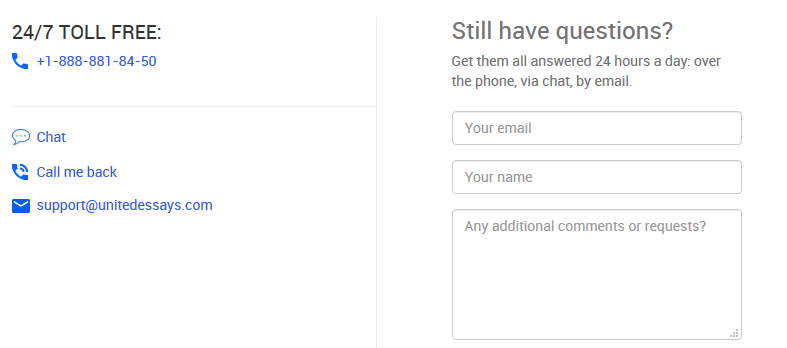 UnitedEssays.com review

Conclusion

Gloria Kopp

While UnitedEssays.com may seem like a trustworthy and professional custom essay writing, it's safe to say that this is all show and there's no a lot of depth to the service, perhaps even operating illegitimately. With this in mind, it's probably best to avoid using the website where you can.
Rating:
2