As a student, the chances are that you've been in a position where you've been slaving away at an assignment, 3am with the deadline due in a matter of hours. Don't worry; we've all been there. However, thanks to the wonders of technology, there is now numerous custom essay writing services that can help you complete your work in your time of need.
One of these services in GetEssayToday.com, a seemingly professional service to help you complete your work on time. But, you'll need to make sure that you're spending your money in the right places, so let's find out whether this is the service for you.
Best Academic Writing Services

GetEssayToday – Rating 4
Table of contents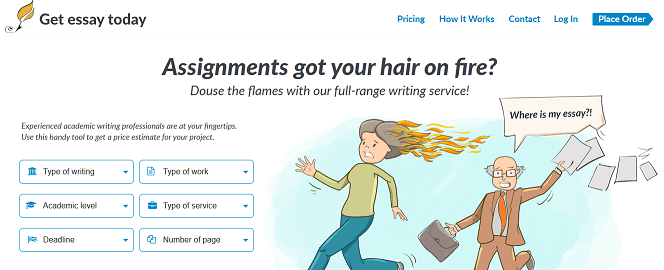 Services – 5/10
Using the order form on the homepage of the website, you can figure out whether the service you require is available and, therefore, whether the website is suitable. There is also no dedicated services page, so this is the method you'll have to use.
However, you'll notice there are only three services available, writing, editing and proofreading, as well as a handful of academic levels. With only essays available, you may be forced to take your business elsewhere if you're looking for a service like a presentation or speech writing.
Pricing – 3/10
There is also no dedicated pricing page on the Get Essay Today website, but you can again use the order form to figure out an accurate price for your content. The price is determined based on the service and assignment type you require, times by the urgency of the task. The quicker you need your work, the more expensive it will be.
To give you an idea of what the prices are like, a Master's paper with a deadline of 7-8 days will cost an incredible $33.27 per page! This is extremely unaffordable, especially to students living on a tight budget.

Content Quality – 5/10
While the GetEssayToday website itself prides itself on high-quality work and content quality, as well as a tonne of high ratings from past customers, there is no testimonials or review page, nor is there any samples of the content on the website which leads me to believe the website is operating illegitimately.
Searching online, there are next to no reviews on the service, meaning the service is either not used regularly, or has been proactive in hiding the reviews it has got.
Customer Service – 3/10

If you decide to use the website, you may want to get in contact with the customer support for whatever reason. However, you'll only find a 24/7 US phone number, a basic email form and a live chat system that operates set hours during the day.
This means international students or students seeking urgent assistance may not be able to get in contact when you need them the most, causing more harm than good.
GetEssayToday.com review

Conclusion

Gloria Kopp

While GetEssayToday.com has a professional and well-designed website, the service falls short in many key areas, and therefore I cannot happily recommend you use the site for your custom essay writing service tasks.
Rating:
2