As the title suggests, this is a top custom essay writing service that prides itself on putting you first and giving you the content that you deserve and can get you the grades you need, regardless of whether you're running out of time on your course.
However, with so many custom essay writing services out there to choose from, how can you be sure that TopWritingService.com is the service for you. Today, we're going to explore the ins and outs of the service, so you can make the best and most well-informed decision possible.
Best Academic Writing Services

TopWritingService – Rating 4.7
Table of contents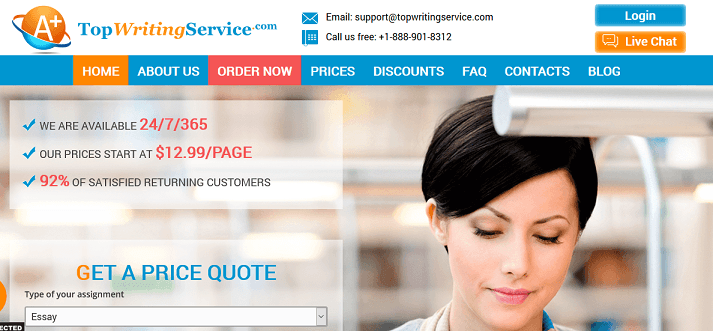 Services – 5/10
While there is no services page on the TopWritingService website, you can easily see what services are available using the order form on the homepage. There are around 30 services in total, covering most of the basics from standard essays and assignments to more niche services which include dissertations and even multiple-choice questions.
This should cover most student's requests, although it's worth noting that some leading services offer in excess of 50+ services, which can feel a lot less restrictive.
Pricing – 3/10

Using that same order form on the Top Writing Service homepage, you can also work out a quote for your work, based on the type of assignment that you want, the deadline in which you require it, and academic level it has been written to and how many pages you want in total.
To give you a rough guideline on what the prices are like, a standard essay with a 3-day deadline, written to a Master's level and is 10-pages long will set you back roughly $359. This is definitely one of the more expensive services online, which most sites are averaging around $200 for the same content.
Content Quality – 6/10
Perhaps surprisingly, the testimonials that are on the website are very short, undetailed and don't really provide any value into what the service is actually like. There are also no dates on any of the reviews, meaning that they could, in theory, be years out of date and no longer relevant.
This forced me to check out online reviews and trust websites. The reviews online, although there is only a handful, look pretty good, stating that the quality is okay, and the service delivers on time. However, the overall lack of reviews only says to me that the service is not regularly used, so take that as you will.
Customer Support – 5/10

If you're looking to contact the website, either asking a question or for an update on your order, there are several ways you can get in contact with the website. On the homepage, you'll find a toll-free US phone number and a single support email address. There's also a live chat feature on every page.
On the contact page, you'll find a basic email form you can fill out for an untold reply time and a physical address. However, there are no social media links, no international phone lines or dedicated department emails, meaning you could be waiting for ages for a reply.
TopWritingService.com review

Conclusion

Gloria Kopp

While there are many good qualities when it comes to TopWritingService.com, the website doesn't seem like it is used very often and that many students take their business to other websites. While the reviews look good online and there's a comprehensive range of services available, you'll be using the service at your own risk.
Rating:
2.3