While this may have one of the longest titles I've seen in the custom essay writing services, the direction of the title led me to expect big things from this website. Marketing itself as the 'go-to place for your professional essay needs', it's no wonder students may want to use this website when they're in need.
However, with so many websites to choose from, let's delve into the ins and outs of the BestAssignmentWritingService.com to see whether it's the right one for you.
Best Academic Writing Services

BestAssignmentWritingService – Rating 5.2
Table of contents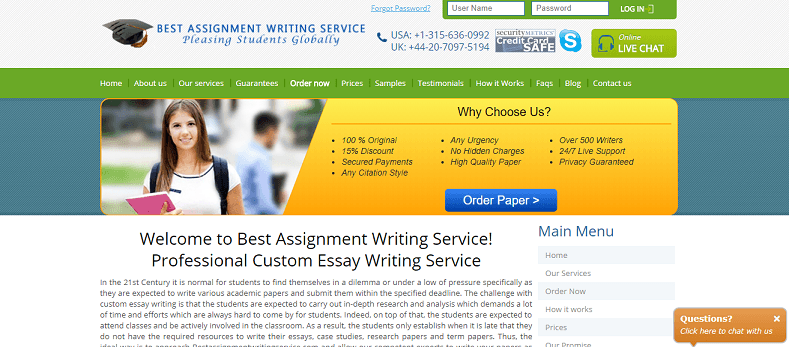 Services – 8/10
If you click on the 'Services' tab at the top of the website, you'll be able to see a complete list of every custom writing service that Best Assignment Writing Service has to offer. As you can see, there are all your basic services, including essays and dissertations, as well as some more niche services, such as editing, proofreading and even cover letters.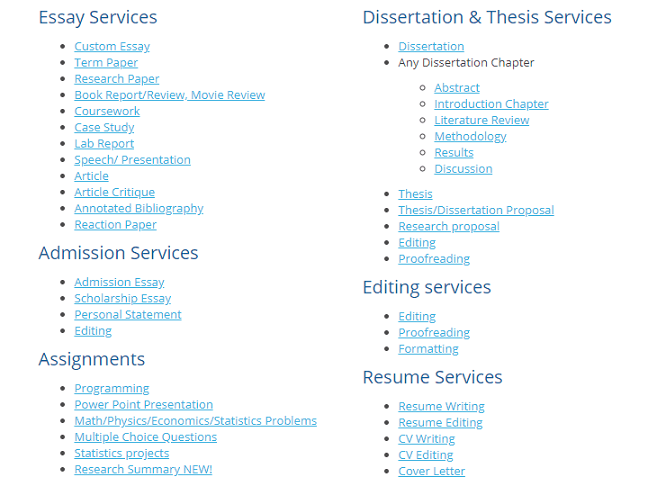 Pricing – 3/10
Moving onto how you'll have to pay for these services, you can use the pricing page which is home to its own interactive pricing calculator, so you can work out an accurate quote. However, one problem I did encounter was that the 'number of pages' option doesn't work and crashes the page, so you'll have to do some maths in your head.
To give you a rough idea of what the prices are like, a 5-page essay written to a Master's degree with a 3-day deadline will cost you around $110. While this is definitely not the most expensive service online, it's safe to say that many students will struggle to justify this kind of spending.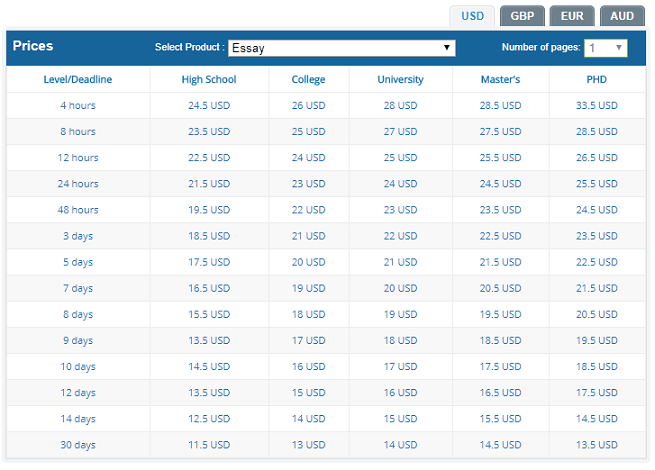 Content Quality – 5/10
While there is a testimonials page on the website from past students and their experiences with the website, but these reviews are vague at best. There's no detail in the reviews, no rating system and no date, meaning that they could be years and years out of date.
This forced me to start searching for more information online. Using trust networks and review websites, I found a series of average reviews.
Customer Support – 5/10
In an event where you want to get in contact with the BestAssignmentWritingService to ask a question or to get help, there are many ways you can contact the website. There's both a UK and a US phone number, a live chat service, a Skype contact link, and a contact form on the contact page.
This is quite an extensive collection of contact methods, but there is a notable lack of social media links, international phone numbers and interdepartmental email addresses which may leave some students feeling like they are left in the dark.
BestAssignmentWritingService.com review

Conclusion

Gloria Kopp

While there are many recommendable features that BestAssignmentWritingService.com offers its customers, there are still many improvements that should be made. If you're considering using the website yourself, try shopping around and use this website as a last resort if you must.
Rating:
2.6