Claiming to be able to supply students with the expert writing solution they need within the tightest deadline is something that SuperbPaper simply does not achieve to a high or even acceptable standard. A well designed website yet Superb Paper lets itself down on a number of key issues.
Best Academic Writing Services

SuperbPaper – Rating 6.4
Table of contents
Services & Products – 8/10
First, even trying to locate the services page can be a struggle. The majority of writing solution sites position their order form on the front page so students can get straight into order and estimated price. Not Superb Paper. The order link is located right at the bottom of the navigation menu.
When having finally located the order form, users can choose from a limited selection of services including academic level of paper and type including;
Essay
Coursework
Editing Services
Proofreading
Presentation
Speech
Term Paper plus a couple of others.
Compared to similar sites, the list is fairly basic and lacks a lot of options that other companies provide. You're also able to choose from a predetermined list of subjects and choose your topic and how many sources you need.
Prices – 6/10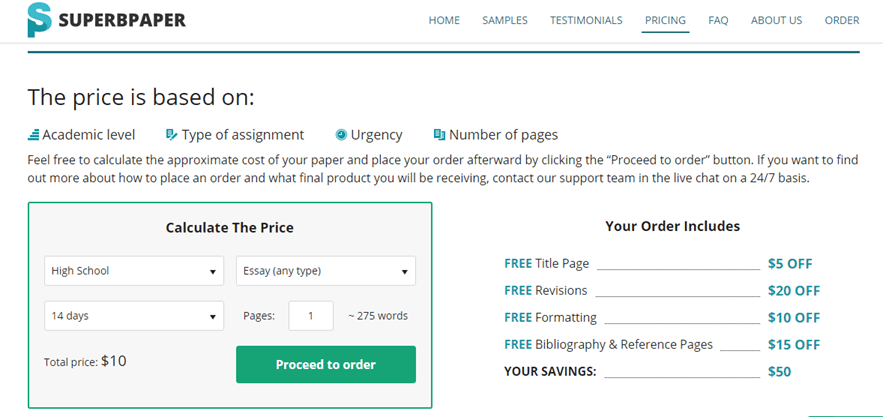 A standard essay written to a university level in chemistry that uses five sources and that's five pages long, delivered in 3 days will set you back just under $150. This is reasonably affordable compared to other writing solutions but there are still more affordable sites to choose from. You also have the option to bump up the costs by selecting an optional plagiarism report, abstract page and VIP tracking support.
Functionality & Navigation – 8/10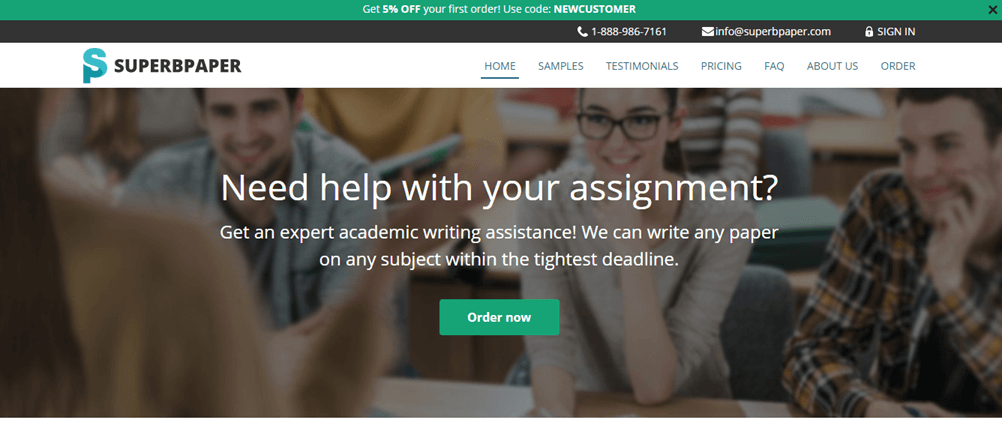 To give credit where it's due, the website is relatively easy to navigate, ignoring the fact the order form is a mission to locate. The site is nicely laid out, clear and concise and easy on the eye. There is even a sample page to give users a taste of what kind of work the writers can create.
This all begins to change when you start to read the content itself. It's boring, not engaging and for the most part, just plain unnecessary. In some paragraphs, it really feels like the site is just trying to fill space.
Customer Service & Feedback – 5/10
There is a constant live chat option located in the bottom corner of the screen. Unfortunately, when trying to use this feature, the chat box disappeared every time I sent a message. After several attempts, I simply gave up.
Apart from that, there is absolutely no sign for contact details. There's a phone in the top left corner which seems to only a new blank browser tab and no links for a phone number or email addresses. This gives the impression the site could be illegitimate.
There is also a testimonial/review page which at first, seems comprehensive but there is no date on the reviews, meaning they could technically be over a decade old. This gives the ever increasing lack of credibility. There is also a mention of a trusted and preferred payment system but no logos or official badges are present.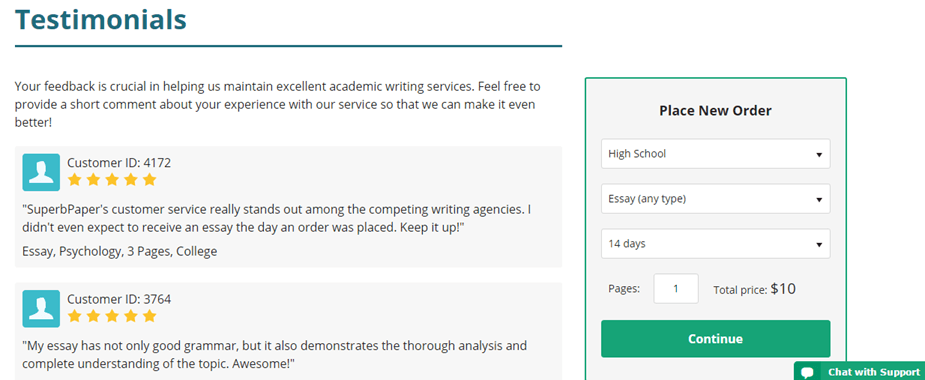 It's also worth noting that work resales have been noticed fairly frequently on the site. This is where two people may order the same or a similar article and the site simply makes small adjusts and sends the article to both. This is quite a frequent occurrence when using SuperbPaper.com and proves that not all work is 100% unique and original.

SuperbPaper.com review

Conclusion

Gloria Kopp

With good, clear navigation, for the most part, SuperbPaper could be the future of online writing solutions. For users looking for writing solutions at present, you're much better off using one of the more trusted and safer sites. This will save you time, money and you'll receive much more efficient service.
Rating: 3.2