At a first glance, Power-Essays gives the impression that it's a very well organised and heavily invested in website. This invokes feelings of trust and professionalism in the users but unfortunately, this writing solution does not meet those high expectations.
Best Academic Writing Services

Power-Essays – Rating 6.2
Table of contents
Services & Products – 6/10
Power Essays lists the standard choices when it comes to what academic level of paper you want written alongside a small selection of papers when compared to other websites. This list includes the basic formats including:
Essays
Articles
Editing (Mentioned twice)
Term papers
Proofreading
Research papers & a few others
Prices and Discounts – 8/10
There is an extremely poor choice of deadline options with the minimum delivery time equally 24 hours. Many other similar sites will allow you to choose deadline options starting at six hours.  One positive attribute is the price, for example, you can order a five page, university quality essay, returned in five days for around $115. This is relatively affordable compared to other sites.
There are also options to increase your bill by adding services such as plagiarism reports, abstract pages and VIP tracking support.
If this is your first order with the site, you can claim back a tiny 5% discount.
Functionality & Navigation – 6/10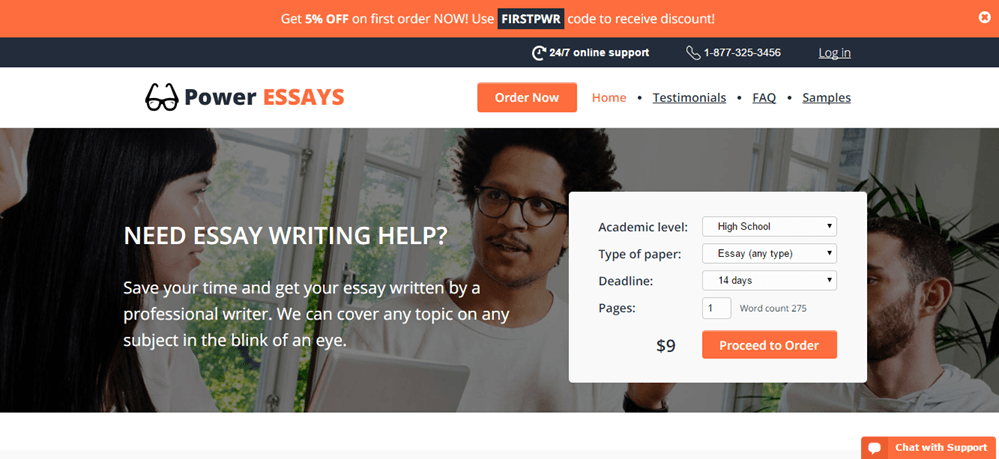 The website itself is relatively well laid out and fairly easy to navigate. There is a very simple navigation menu, which does not include a contact link. The contact page is in fact located in the overly complicated navigation menu found at the bottom of the page.
There is also a rather noticeable missing feature of a site map in the footer of the website which would increase functionality. There is a conveniently located 'Call Us Now' button in the top left but as far as I am aware, this button is useless and doesn't open a page or link.
It's also worth noting that the website is slow to load any page accessed using the complicated navigation menu. On the plus side, there is a page providing samples of some of the writers work but there is a lack of badges or logos suggesting the site does not use a trusted and secure payment system.
Customer Service & Feedback – 5/10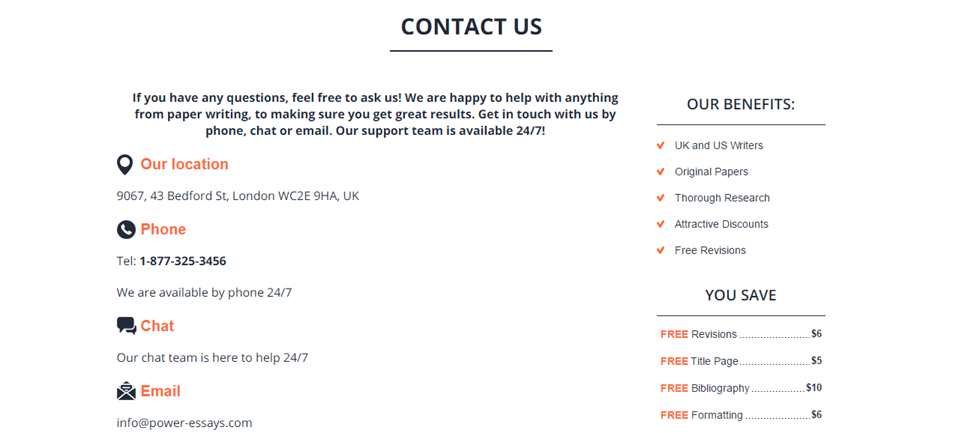 As mentioned above, the contact page is extremely difficult to find and users can waste a lot of time trying to find what page they are looking for. To compliment this, the contact page is very basic and I received endless ringing when calling the provided phone number.
There is also a static live chat option located on all pages which has a fairly fast response rate and I were only disconnected a few times. When asked a few basic questions such as 'How long has Power Essays been in the writing business?', I received the response 'We are on market for about 5 years already'. Poor grammar, wording and sentence structure is not the best sign for a company providing high-quality writing services.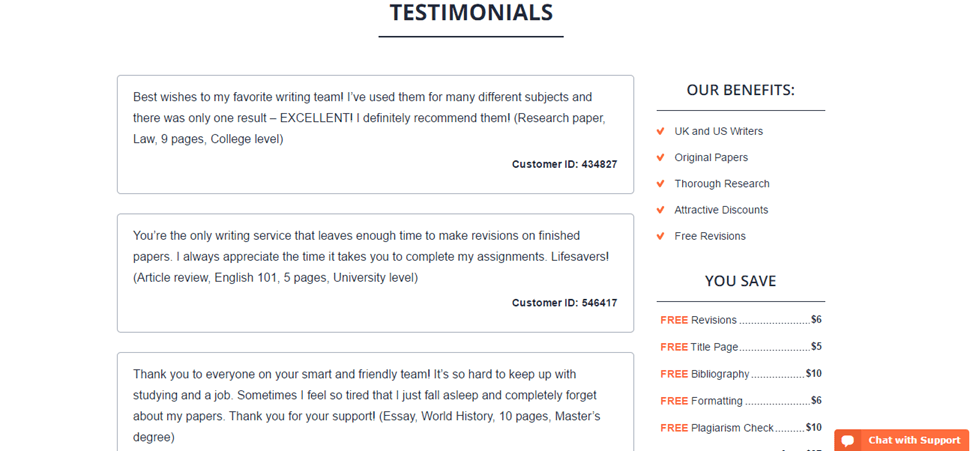 There is also an extremely basic testimonial/reviews page which includes customer ID, the review and what project and paper were written for the customer. Unfortunately, there is no date provided, meaning the credibility of these reviews is limited and some of the reviews could be years old and no longer relevant.
In regards to the sample I ordered, I ran it through a high-quality plagiarism scanner. The results were shocking. The article results were returned and had a 32% match on the report. This is an awful result and one of the worst I have ever seen. If I was handing this in as a student, it would be rejected and I would almost surely fail the course.

Power-essays.com review

Conclusion

Gloria Kopp

Despite a professional looking website which gives the impression the company is fully featured, upon further inspection, Power-essays.com lacks what it takes to be a great writing service provider. With poor, unclear customer service, awful review system and some of the website features just not working, students are much better off taking their custom elsewhere to a more trusted, safe and secure site.
Rating: 3.1