Have you ever been in the position where you've stayed up till ridiculous o'clock in the morning trying to finish your assignments and essays just hours before the deadline? This is stressful, unhealthy, and the quality of your work is never guaranteed.
This is why many students are turning towards custom essay writing services. ResearchPaperz.net is one of these websites, but before you jump in to spend your hard-earned cash, let's find out whether it's the safe and legit service it claims to be, or whether it's a scam out to get your money.
Best Academic Writing Services

ResearchPaperz – Rating 3.5
Table of contents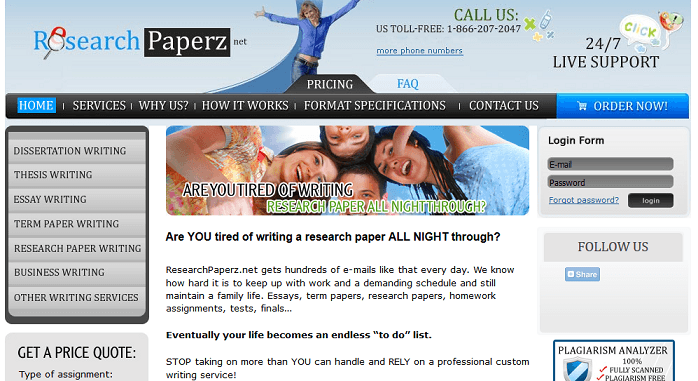 Services – 4/10
Referring to the homepage of the website, ResearchPaperz only offers a collection of seven services, ranging from research and dissertation writing to business writing and essays.
While this covers the basic form of writing services a student may need, it does feel very limited, especially when compared to leading services that offer in excess of 50+ services.
Pricing – 3/10
Of course, you're going to want to use a service that's affordable to your budget. Using the pricing form on the homepage, you can figure out an accurate quote for the service you require. To give you an idea of what prices are like, a ten-page essay (single-spaced) written to a Master's level with a week-long deadline will cost you around $464.
This is an extortionate amount of money, and easily one of the most expensive services I've seen. Additionally, there are no signs of discounts, promotions, or money-off codes that can bring this price down, even if you're a first-time customer. There also don't seem to be any free services, such as plagiarism reports.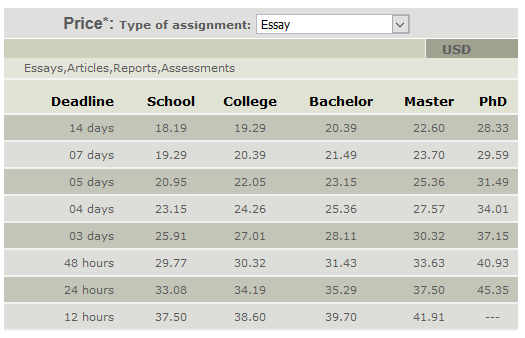 Content Quality – 3/10
The quality that the Research Paperz service produces is illegitimate at best. There are no review or testimonials to be found anywhere on the website, not even on the homepage. Searching online, there are no reviews to be found anywhere online.
There are not even any samples available for you to read through yourself. This either states that the service is unused and therefore the quality is impossible to judge, or the service is so bad that the reviews have been hidden. Either way, it doesn't bode well for the quality that's produced.
Customer Service – 3/10
If you want to ask a question, you've placed an order but want to ask a question, or require a refund; you'll need to get in touch. There are several ways you can do this which include calling the US toll-free phone number or emailing the support email.
The site does claim there's a live chat, but it doesn't seem to appear anywhere on the website at any time. This is extremely limited, and many students will be disappointed about how difficult it is to get in touch with them, especially since you need to create an account and login for the best customer service experience.

ResearchPaperz.net review

Conclusion

Gloria Kopp

ResearchPaperz.net need to make some improvements. The site is basic at best and the service provided is difficult to describe as being positive. If you're a student looking for a writing service to help you out, it would be best to shop around some more.
Rating: 1.7