Priding itself on affordable prices, a clean, professional looking website and a vast range of guarantees and promises, MidTerm.us seems like the perfect writing solution service. Unfortunately, these statements could not be further from the truth as I quite possibly received the worst writing solution experience I have ever had.
Best Academic Writing Services

Midterm – Rating 6.4
Table of contents
Services: Limited selection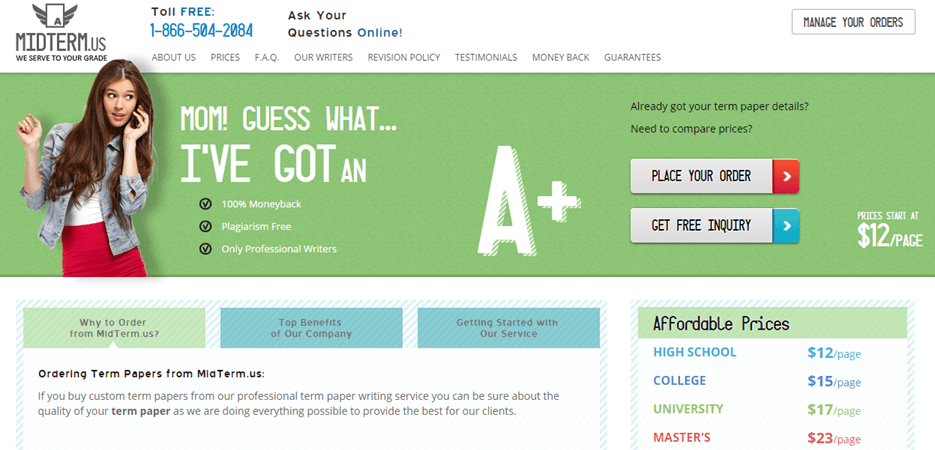 When you finally find the services list, hidden away at the bottom of the home page in the order form, you're greeted with a very limited selection of services but all the basics are covered. That being said, no one is going to what to use different sites to complete different tasks, especially when all the services are provided for on some of the market leading sites.
Prices: Sky high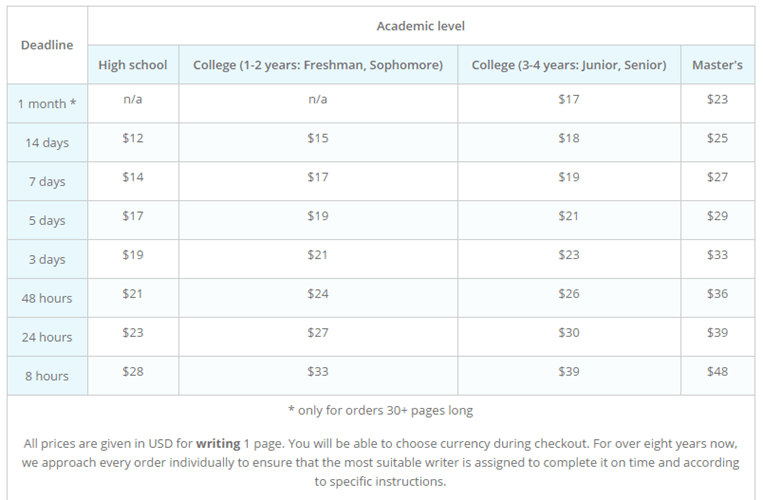 I selected a ten-page essay, written to a college level, to be delivered within five days and was shocked to discover a quote of around $210. These are bordering on scam prices and can't be real. It's worth noting this is quote before adding extras such as proofreading and provided sources. On a student's budget, this is quite simply not an option to be spending this amount of money on one essay. There are more affordable solutions on the market than MidTerm service.
Quality: Poor level of English
Surprisingly, after I received my essay, four days late I might add, the initial plagiarism scan revealed a low and acceptable score of 13%, although in most cases, this is still too high to be handed in for a submission. When I began to read the document, I was appalled at the quality and level of language in the writing.
Personally, it looked as though a ten year old had written the document and the difficulty level in the language was at such an extreme basic level. Not only that, the sentence structure was all over the place and the punctuation was just terrible. I cannot believe this passed both a writers and editors proofread, well, apparently they had.
Customer service: Poor refund policy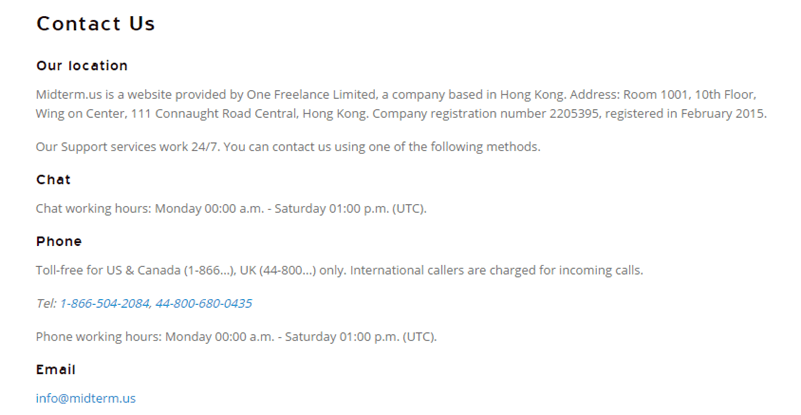 The refund policy of Mid Term states that a full refund can be issued if strong reasons and examples are supplied. I contacted customer service through email (the live chat has yet to connect to an advisor) in which I was asked to send copies and highlight the poor areas of content.
I did this and received no reply for three weeks. After this period of time, I received an email stating that the 14 day refund period was over and since they hadn't heard from me, a refund was now no longer possible. I had sent the revisions email within a couple of hours of receiving it and multiple times throughout this time period. It's obvious that this is a scam policy and they just simply decided to ignore my emails.

MidTerm.us review

Conclusion

Gloria Kopp

With such poor quality content being produced and the inability to stand up for to their mistakes, MidTerm.us is one writing solution service you're best off avoiding. With extortionate rates for some of the lowest quality work I've ever seen, my advice is to stick to the tried and tested services that always deliver on their promises.
Rating: 3.2