Immediately priding themselves on a low price of $8 per page, I considered GoHunters.com writing solution to be one of the more affordable services available and was interested to see what they had to offer. Unfortunately, the price reflects the quality of this site's experience and I highly recommend that service users wanting an even decent experience should try elsewhere.
Best Academic Writing Services

GoHunters – Rating 6.8
Table of contents
Services: Limited selection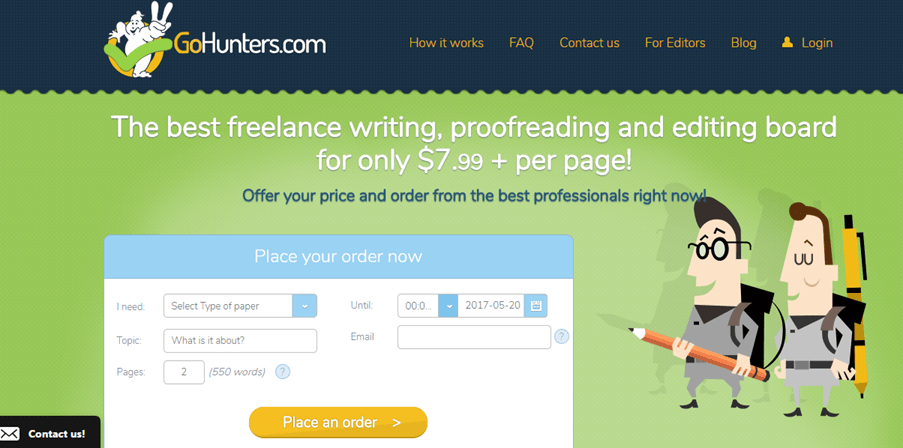 Firstly, there are no dedicated services or price list page, making it very difficult to see what the site actually has to offer. After referring to the order box, you'll be greeted with an extremely limited selection of document choices but all the major ones are covered. I proceeded to fill out the order form to make my test order.
Prices: Unreliable bidding system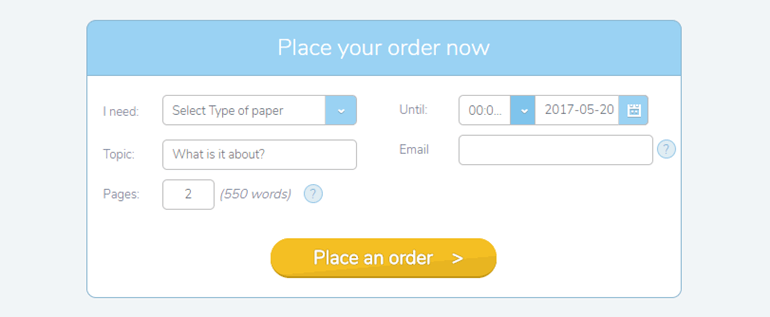 GoHunters service does not use standard methods of payment. It boasts a fantastic rate of $7.99 per page but this is far from the truth. In fact, that is the starting price per page. Go Hunters uses a system where writers and proofreaders who work with the site bid for your work. This allows you to negotiate prices and get a fair price for your document. This is a great concept in theory but all writers for my article where bidding high prices, meaning I didn't really get a chance to push anyone lower. I ended up forking out the staggering amount of $205 for a 10-page college Maths essay.
Quality: Not acceptable
I received my content a day after the deadline date and was shocked at what I had received. The document was terrible! Half the sentences didn't make any sense at all, nearly every third word was misspelt, I had no sources provided despite requesting them, the plagiarism checker returned a breathtaking 74% match to various articles online. In short, this is quite possibly the worst document I have ever purchased.
Customer Service: Non-existent options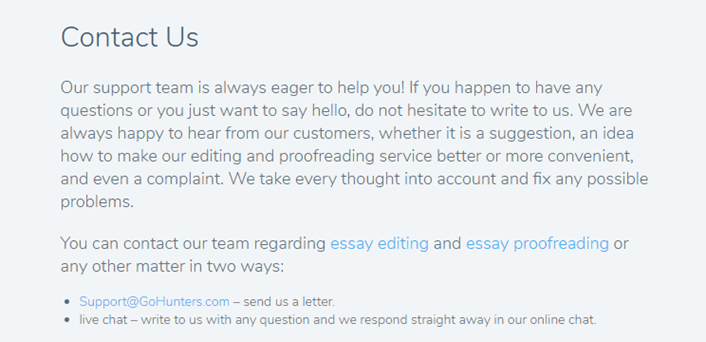 As you would expect, I took to the contact us page to find out what happened and I continued to be shocked. Users have two choices of either sending an email or 'live chat'. I went to use the live chat option but guess what, it doesn't even exist. There's no hyperlink on the text or any other obvious option to start the chat.
The option suddenly appears after around half an hour of searching but surprise surprise, there was no one online. I have written an email to the company explaining my concerns and am still awaiting a reply.

Gohunters.com review

Conclusion

Gloria Kopp

To summarize, Gohunters.com was a poor experience from start to finish. Every aspect of the service completely failed to deliver to any sort of expectations and I am truly disappointed. Anybody looking for a decent writing solution experience is going to be much better off using one of the respected and more developed service providers.
Rating: 3.4