If you're looking for a custom essay writing service that can help you out in your time of need, the chances are that you're feeling a little overwhelmed by the number of services that are available, making it difficult for you to pick which one is right for you.
However, during your search, you may have come across a service titled Essay-Homework-Help.com, a Chinese website that can easily be translated using plugins like Chrome or Google Translate. However, it doesn't matter where the website is from, all that matters is whether it can provide you with the content you need. Let's find out.
Best Academic Writing Services

Essay-Homework-Help – Rating 5
Table of contents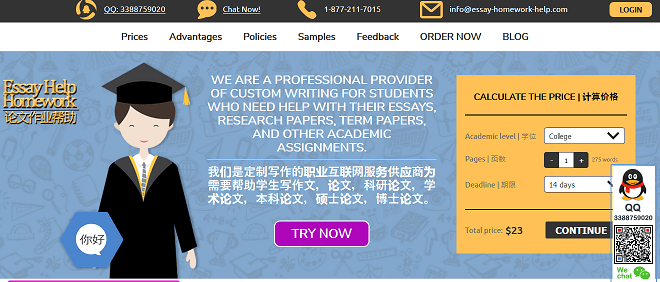 Services – 6/10
Firstly, you'll need to find out whether the service you're after is actually available. While there is no services page, you can easily check the order form on the homepage to see whether you're able to order what you want from the website or not.
It turns out that there are around 30 services available, ranging from your standard essays and case studies to PowerPoint presentations. While most students will find what they're looking for, some students may need to look elsewhere if they're looking for something more niche.
Pricing – 5/10
Using the pricing page (which actually takes you down the homepage), you can figure out the cost of your required service before you actually start using the website. The price is based on the academic level of the service you're after and then the deadline that you need it by.
As a rough guideline for what prices are like, a standard essay that's been written to a Master's level with a 5-day deadline will set you back around $35 per page. This is a huge amount of money, especially for a student living on a tight budget.

Content Quality – 4/10
The quality of the content that Essay Homework Help provides is questionable at best. While the website does post reviews and testimonials, none of these reviews has a rating, provide a comprehensive review nor does they have a date, meaning they could be years out of date.
Looking at the samples on the site and you can see the content is basic at best. The sentences are loosely structured, the English aren't perfect, nor is the grammar or punctuation. Reviews online from past customers only confirmed what I had already found.
Customer Service – 5/10
If you're choosing to contact the Essay-Homework-Help website before or even after you've made a purchase, there are several options available to you. There's a live chat system available 24/7, as well as QQ and WeChat services. There's also a US toll-free phone number and an email address, but that's about it.
There are no links to social media accounts, nor a dedicated support email address meaning you could be waiting a while for a reply.

Essay-Homework-Help.com review

Conclusion

Gloria Kopp

With sky-high prices, inconsistent content quality and a lack of customer support options, I simply cannot recommend Essay-homework-help.com as a leading custom essay writing service, and most students will be best off avoiding this site in favour of another.
Rating: 2.5