To begin with, Essays.Businessays.net looks like an extremely bland and uninteresting writing solution website. Not only does is there a complete lack of color, there is no sign of a contact page, refund policy page or even a real testimonials page. Even at a first glance, it is plainly obviously that students looking for an even decent solution provider would be better off looking elsewhere.
Best Academic Writing Services

Essays.Businessays – Rating 7.0
Table of contents
Services: Average selection of services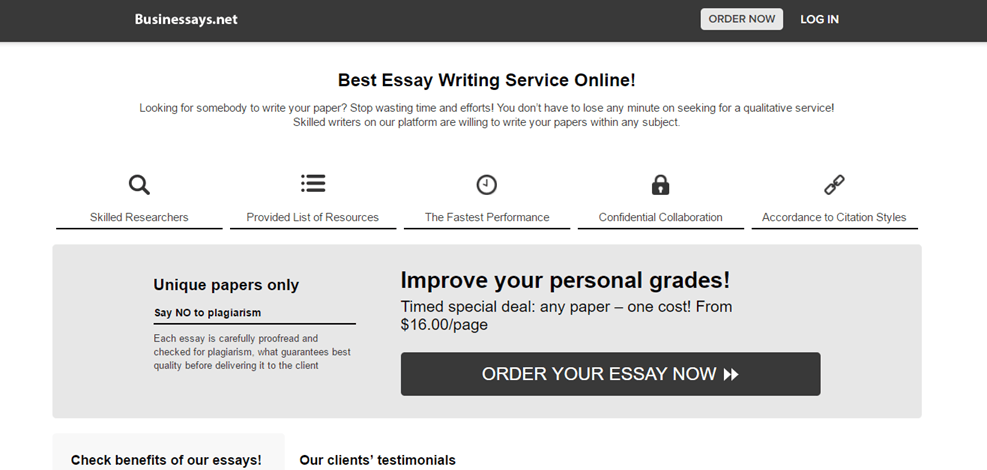 When placing an order on Businessays.net, you'll instantly notice an average list of about 30+ services. Despite the majority of the major paper types covered, there is a distinctive lack of some of the other more niche papers. This means that students cannot hope to have a complete and all rounded experience with the site and may have to look elsewhere when looking for ways to have certain papers written.
Prices: Terrible bidding system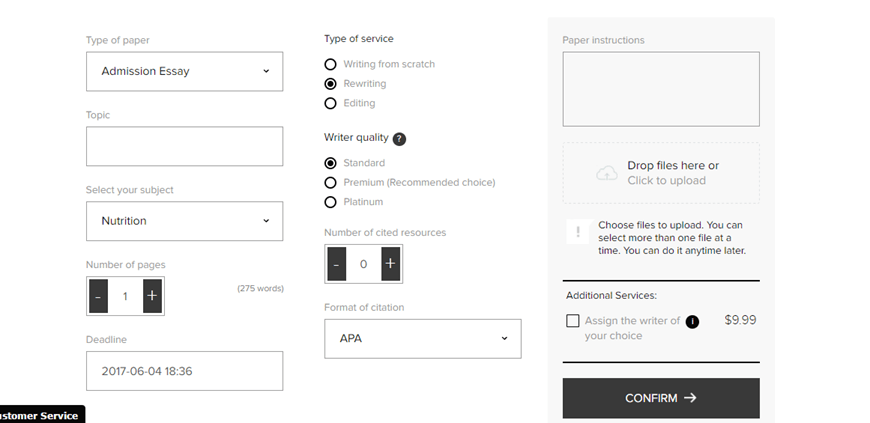 I already despise the nature of the writers bidding system used by some of the more illegitimate writing solution sites and Businessays is no better. By implementing a bidding system, writers can bid for your work and you choose which writer fits your budget and quality level based on reviews.
The reviews, and the names of the writers themselves, have obviously been faked and there's no way that 'Destiny' has completed 1427 tasks whilst only having been signed up to the site for a month. I was quoted by 40 writers in the space of around 20 seconds, for a ten page article on Law, written to a Masters level with a seven day turnaround time. I was shocked to have been quoted a minimum of $370.
Quality: Obviously a resale
Having forked out nearly $400 for a ten page essay, I had high hopes that the quality was going to be incredible. For my site reviews, I order the same kind of page from each site so I can see which sites are operating together. Unfortunately, this order was returned to me and I soon realized that this was the exact article I had ordered off another site. Even down to the last word.
Not only does this mean that resales could be common on this site, but even the mistakes I found on the first essay where still present. These were easy spelling mistakes that could have been picked up in a simple proofreading, leading me to think that absolutely no quality checks have taken place on the article.
Customer service: No customer service options

Obviously fuming that I had lost nearly $400 on a worthless article, as any student would be, I returned to the website to see if I could get some sort of refund of replacement. Unsurprisingly, there are absolutely no ways to contact the company. There's no contact page, no phone numbers or email addresses. There was even a complete lack of social media links, a must when it comes to a good writing solution provider.
However, there is a 24-hour live service featured on the site but after countless attempts, I finally gave up after being repeatedly disconnected.

Essays.Businessays.net review

Conclusion

Gloria Kopp

In short, Essays.Businessays.net is a complete waste of time to any student or individual looking for a writing solution service provider to suit their requirements. Poor and expensive content that simply isn't suitable for any student budget, you are much better off heading over to one of the market leading websites when you can be safe in the knowledge that your hard earned money is being well spent.
Rating: 3.5