In the words of the website, EssayForYou exists to relieve students from the pain of essay writing. Unfortunately, the company does anything but. With what seems to be one of the most poorly designed sites out of the entire writing solutions market alongside extortionate costs, students will be much better off trying one of their more fully functional competitors.
Best Academic Writing Services

EssayForYou – Rating 6.0
Table of contents
Products and Services – 6/10
Regarding first impressions of the site, many sites allow you to choose your paper immediately whereas Essay For You gives you a bunch of information before having to try and find the order form. This isn't even an order form, it's an 'inquiry' form.
Instead of just ordering what paper you want to be written, your request is sent to an administrator for confirmation who will then email you with payment details and confirmation. This does not appear legitimate at all, especially when compared to rival companies.
Some of the services you can receive from the site include;
Creative Writing
Coursework
Term Papers
Articles
Presentations
Case studies
Research Papers & a couple of others.
The list of services is relatively well stocked and you're able to choose any level of writing from High School to PhD. Unfortunately, there are only seven deadline options to choose from and when you notice this, alongside the fact you have to wait for a confirmation and invoice email, the turn-around time becomes quite lengthy compared to a lot of other writing companies.
Prices – 8/10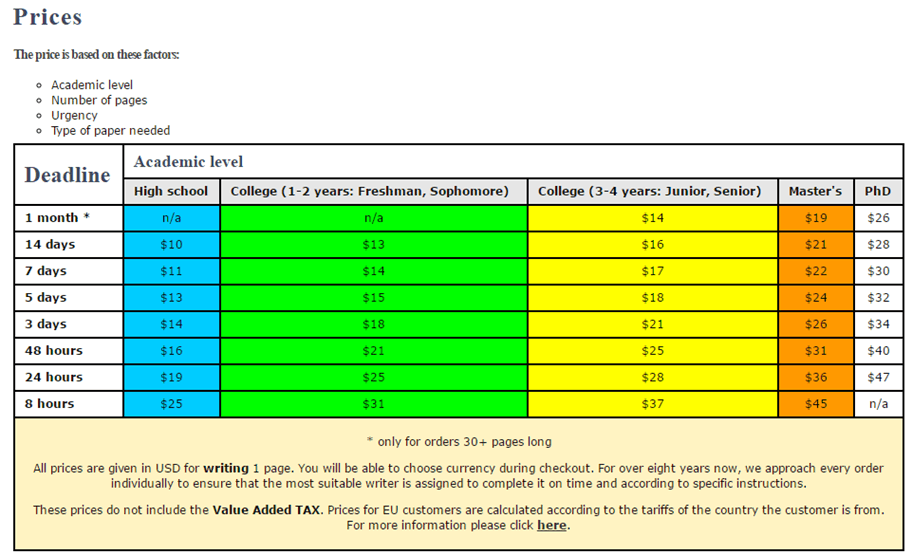 As for price, a six page, double spaced article on accounting that's written to a PhD level with a 'first draft' deadline of 3 days will set the average student back a spectacular $244.80. There is also the option to increase these costs by including writers' samples and an extra $20 to have a copy of the sources used. There are much more inexpensive solutions out there.
Functionality & Navigation – 5/10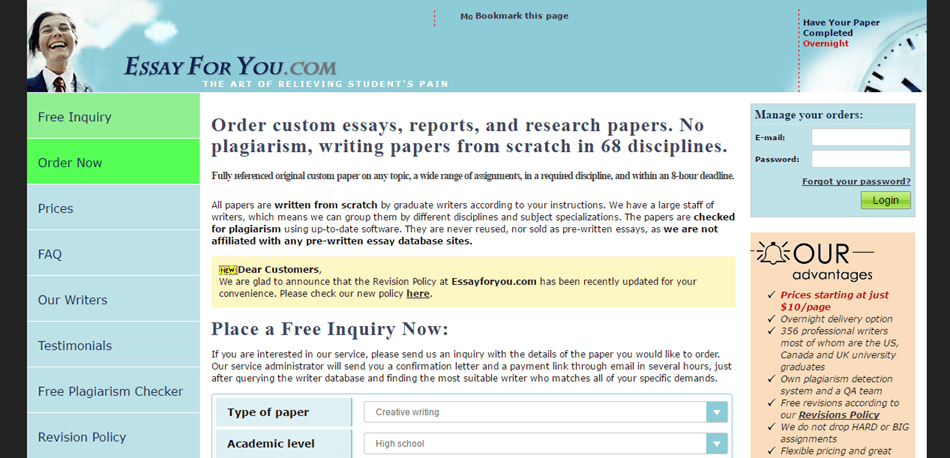 The best feature on this website is the speed in which the pages load but this can only be due to the lack of style that Essay For You has. Everything is written in plain text which can be overwhelming if on the site for a prolonged period of time. The social network share button in the top left-hand side of the screen is almost invisible and hidden behind the bookmark button and the fonts and colour scheme used is simply repulsive.
When looking to the contact the company, there is the obvious static 'Live Chat' button which is present on every page but in our experience, I have yet to speak to an advisor. If you want to contact EssayForYou via email or by phone, good luck trying to find the link. After extensive searching, I found it was hidden away, right at the bottom of the page in the footer text.
Customer Service & Feedback – 5/10
One decent feature on this site is that it does have a testimonial/review page. This is a fairly comprehensive page that provides the date, customer ID and what the essay was written about including topic and number of pages alongside customer feedback.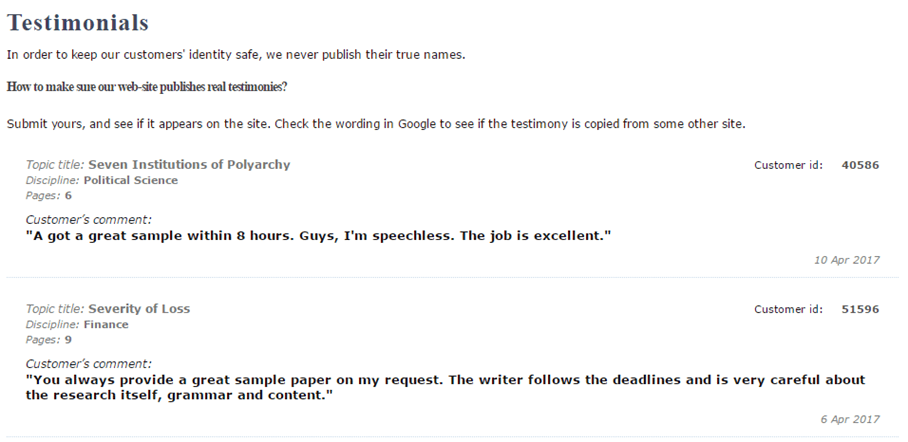 I haven't been able to speak to an online live chat assistance during our time on the site and the contact details are so hard to find that they might as well not even be there.
To top this all off, there is absolutely no indication that the site uses a trusted and secure payment system and provides very little information in regards to guarantees or refund policies.
This is especially important as the work I received for my example article was terrible. Not only was the level of English dire (obviously the article had written by someone whose first language was not English) but the grammar and punctuation were all over the place. Even a quick proofread would have picked up on these mistakes and appropriate checks had blatantly not been carried out before document release.
It's also worth noting that a quick check through an online plagiarism checker revealed that the majority of my requested article had been copied and slightly adjusted from three online resources and the checker returned a copy rate of 28%. This is frankly unacceptable and I would surely have failed my course if I had handed this article in.

EssayForYou.com review

Conclusion

Gloria Kopp

EssayForYou.com does have the potential to be a good site but it needs a lot of work. It lacks heavily in features and ease of use and is very complicated when trying to navigate. Although it could be a good solution in the future, students who are looking for writing services today, your money is better spent elsewhere on a more functional and fully equipped writing solution site.
Rating: 3