Looking for a custom writing service website to cater for your requests as your tedious deadlines draw ever closer? CheapEssaysOnline.com aim to help students, such as yourselves, with writers who can effortlessly complete your assignments to the highest-quality possible. However, this particular custom writing service leaves a lot to be desired.
Best Academic Writing Services

CheapEssaysOnline – Rating 6.6
Table of contents
Website

My first impressions of the site were decent. The pages are nicely laid out and organised, and there's a nice side menu that allows you to navigate the pages with ease. There are all the usual pages you would expect on a decent custom writing service website except a very difficult to find a contact page, which can be found in the footer. There's even a handy order form on the homepage so you can get started on your orders almost immediately.
Services
Unfortunately, that's one of the only good aspects of the site. The services page menu is extremely unhelpful, and you're much better off using the order form to see if your required service is available. The site boasts a nice 20 or so services to choose from with all the main popular assignment types covered. However, there are a lot of key services missing, meaning students looking for these will have to go elsewhere.
Prices

Referring to the homepage order as a guideline, a ten-page (2,750 words) essay, written to a Master's level with a 48-hour deadline will set you back around $400. This is crazy money and completely unaffordable to most users, especially when you consider the much lower price of some of the leading websites. This makes CheapEssaysOnline completely unsuitable for a regular writing service.
Quality
Using the testimonials page, it's easy to see that the site has some gleaming reviews. However, searching online, I quickly discovered an array of previous customers who had had a disappointing experience with the website. There were reports of resales, high levels of plagiarism and articles that simply weren't up to scratch and was not the quality that would have gotten the students the grades they intended.
Customer service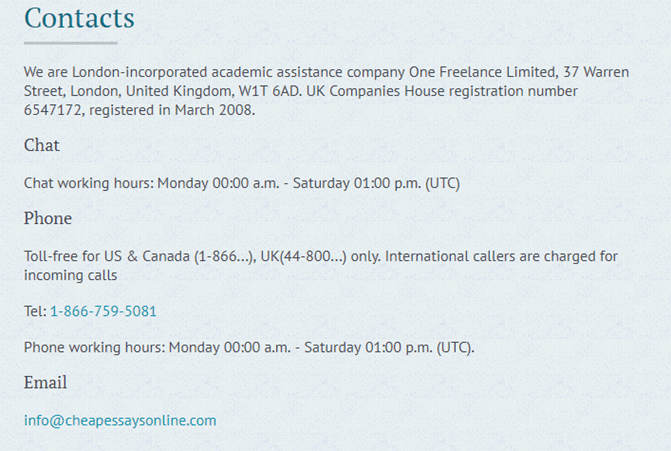 There are only three very restrictive methods you can use to communicate with Cheap Essays Online. Firstly, by phone, you can only call if you live in the US or Canada. If you live outside this area, you will be charged expensive international calling fees. Alternatively, you can email the site although this doesn't seem to be a very reliable method of communication. Finally, can use the live chat feature but, this is only available during certain hours of the day.
CheapEssaysOnline.com review

Conclusion

Gloria Kopp

All in all, CheapEssaysOnline.com has a long way to go before it can be considered one of the best. Despite not offering a terrible service, every aspect of the service needs a little or large improvement or update to make sure it's the best. Until then, students are advised to take their business elsewhere.
Rating: 3.3