When in university, I always found that the most difficult part was trying to cram everything you needed to do into one day. Getting up, seeing friends, trying to cook and live healthier, doing exercise, attending lectures, holding together a relationship, trying to spend time by myself and then trying to complete the dreaded assignments on time! AssignmentDoer.com was set up to lighten our workloads, allowing us more time to focus on other, more important things.
Best Academic Writing Services

AssignmentDoer – Rating 5.6
Table of contents
Website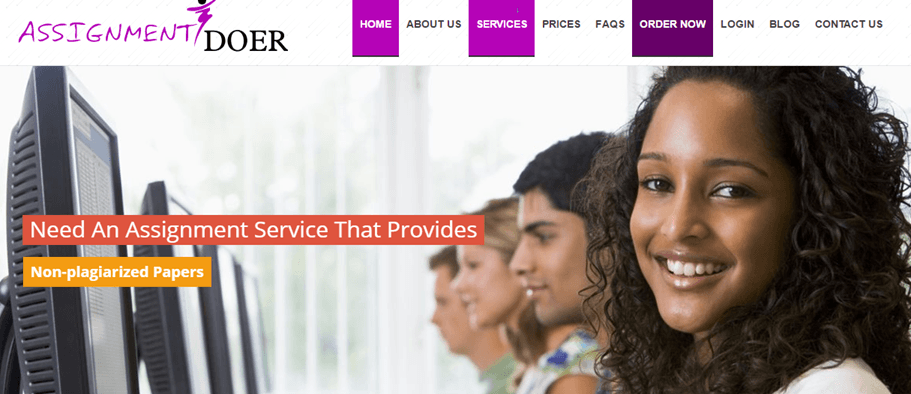 Signing on to the website leads you to a nice-looking website that's seemingly easy to navigate, nice visuals and all the obvious pages you would require from a custom writing service. The home page is a little be cluttered as you scroll down and there is a large amount of useless filler content used to fill space. The big downside, however, is the lack of an order box at the top of the homepage, that would allow students to begin making their order straight away.
Services
The services pages are also full of useless and uninformative filler content that could be made useful by investing in a simple table that describes what services the website has to offer. Following through the order process, you can see that the website offers a select few writing services, mainly the basics such as essays and research papers, but doesn't seem to cover any of the more niche assignments that many students are asked to complete.
Prices

Following through the order process for my quote, I discovered that a ten-page essay, required within 48 hours and written to a Master's academic level (standard quality) was going to set me back a massive $419! This is crazy money and no student is going to want to pay that on a regular basis, their budget won't simply allow it! It's worth noting that this price is the foundation price before you add any extras such as plagiarism and proofreading reports.
Quality
There is a complete absence of testimonials or even a review page on the website which leads me to highly doubt how trustworthy the website is and its credibility. Searching online, I quickly discovered that a lot of previous customers have had problems with the site, explaining that their content was full of errors and typos, there was a lack of fluent English and there were a few cases where there was a bit of plagiarism.
Customer service
There are multiple ways in which you can contact the company. For instant assistance, you can simply use the live chat option on the site. For non-urgent matters, there's an email form that can be filled out on the contact page and there's also an email address and a phone number.

AssignmentDoer.com review

Conclusion

Gloria Kopp

To summarize, Assignment Doer has the means to be a good custom writing service. All the basic are in place, the site just needs to update its services, make the prices a bit more competitive and sharpen up their content quality. However, that's no good for a student looking for a writing service now so my advice is that you're better off going elsewhere for a service you can trust, without breaking the break.
Rating: 2.8