SpeedyPaper.com is becoming more popular online, so I wanted to see if they're as good as they say they are at essay writing. This review will investigate whether they're a legit service, or they're just another scam aimed at students.
Best Academic Writing Services

SpeedyPaper – Rating 6.8
Table of contents
Limited range of services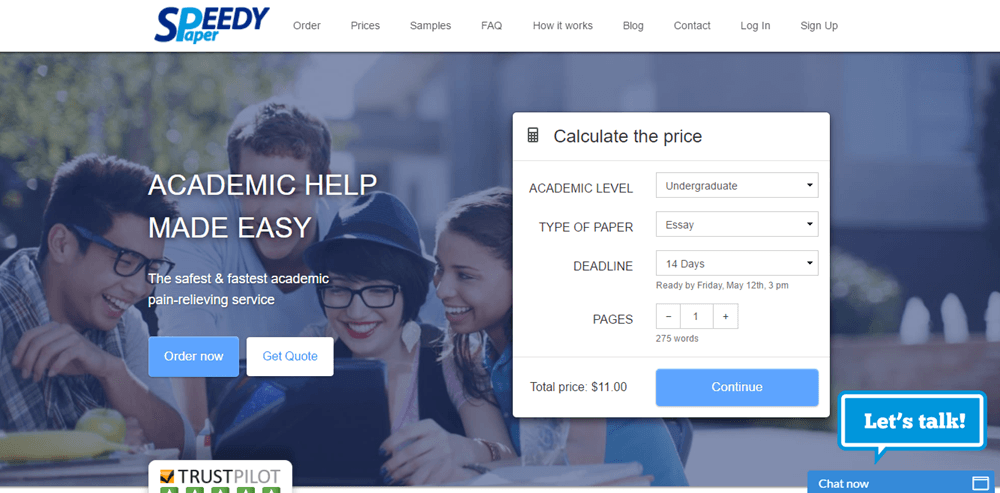 With SpeedyPaper, you can have all kind of writing services done. These include essays, dissertations, and presentations. However, I was disappointed to see that there were no other services available. Many other writing sites offer resume writing or proofreading. It seems as though this site just can't compete.
Quality of papers: plagiarism detected
To find out how good the writers are, I made sure to sign up for an account and place an order for an essay. The essay I got back was well below the quality I was looking for. The piece clearly hadn't been proofread, and there were so many mistakes that there was no way I could have handed this in as it was. What was worse was there were clearly plagiarized sections in the essay. This really is unforgivable.
Prices: above average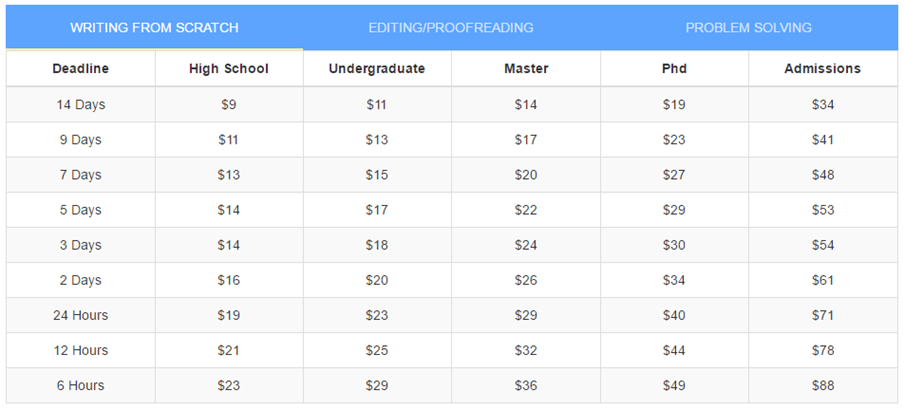 The average essay ordered with Speedypaper.com is a 2-page undergraduate essay, written within 9 days. With them, this will cost you $27.38. This seems pretty cheap, but remember that the quality of the writing was very poor for what I paid. There's no discount or promotion code either, something many or sites have.
Missed deadlines
The website states that all essays are delivered by the deadline, and some even come before then. That sounded like a pretty good deal to me. However, I was dismayed to find that my essay came mere hours before the deadline was up. It's not great for anxious students who have their own deadlines to meet. The lack of communication made it difficult to know what was going on with my order.
Ignorant customer service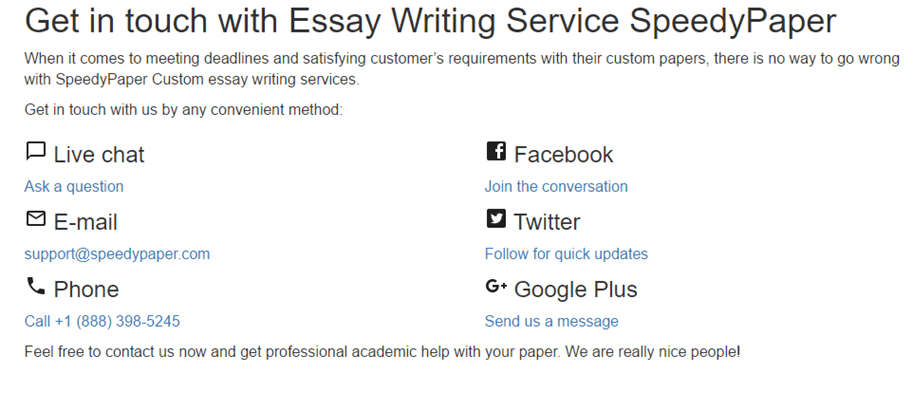 The Speedy Paper website has several ways for you to contact them. You get in touch for free by using their live chat function, or you can call their dedicated phone number. I got in touch as I wanted a refund, after all, my essay was terrible. However, I found that once I had made the order, it was very difficult to get support. The fine print meant I really had to argue to get my money. I managed it in the end, but I wasn't happy with the customer service I received.

SpeedyPaper.com review

Conclusion

Gloria Kopp

There's no way I can recommend Speedy Paper to students. The quality of the papers was incredibly poor, and there's no way any student could use them. The way I was almost refused my money back borders on the illegal/legal too. Don't log in/sign in with service, there's a safe option on better websites.
Rating: 3.4