Total Score: 3.7/10
As the name suggests, if you're looking for academic writing experts to help you create your next perfect assignment, you may be drawn here for obvious reasons. AcademicWritingExperts.com service offers a wide range of services while to cover all subject types, 100% original content and everything handled on time and for an affordable price.
Let's see how true to the mark these claims actually are.
Best Academic Writing Services

AcademicWritingExperts – Rating 3.7
Table of contents
Services – 4/10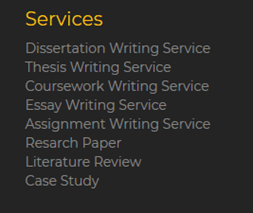 Unfortunately, there's no dedicated services page to see a complete list of all the services that the website provides. However, in the navigation bar, you'll find five main services, stemming from a standard essay, all the way through to dissertations.
This solely depends on what you're looking for because if you're looking for a presentation, a book report, a movie review or any of the other more niche assignment types, you're going to have to look elsewhere for another service.
Quality – 4/10
Claiming to have served over one million customers, you'd expect the quality at AcademicWritingExperts to be pretty great. There also claims to be a 96% satisfaction rate with a 95% customer retention rate. However, there is no review or testimonials page to be found anywhere on the website.
Searching online, I soon discovered a tonne of forums and review websites which had past customers up in arms! Many claimed that the website had charged them for their work but had then gone quiet, not even sending out a finished article or essay! Those that did receive content where equally disappointed as the work was written in poor English and full of spelling mistakes.
Pricing – 4/10

There's very strange system of the Pricing Plan page where you can figure out the price of your assignment using the colored boxes. Not sure why they can't just implement a price calculator, but we'll never know.
For a rough idea of the price of assignments, a ten-page essay written to a PhD level with a 3-5-day turnaround time will set you back around $239.50. This is fairly expensive and could cripple a student who's living on a tight budget.
It does seem very odd to me that there's no deviation on price and it suggests that a dissertation page will cost the same as a standard essay page.
Customer Support – 3/10

There are a handful of ways you can contact Academic Writing Experts if you needed them on the contact page, you'll find a basic email form you can fill out as well as a 'free consultation' form underneath that (and on every page).
There's also an 'info' email address, a US phone number and a Skype call button. There's also a live chat feature available on every page. As you can see, this is quite the collection of contact methods. The only thing missing would be social media page links and dedicated email addresses for each support department. It would also be nice to have a phone number for students outside the US.
AcademicWritingExperts.com review

Conclusion

Gloria Kopp

Although AcademicWritingExperts.com isn't the worst service in the world, there's definitely room for improvement. With these improvements, such as better quality and just an overall better customer experience, this site could be one of the best. However, in the meantime, it's recommended that you take your business elsewhere.
Rating:
3.7