It's easy to see why students from all over America, and the rest of the world, flock to SameDayEssay. As a student, it can be difficult to find the time to complete all your essays and assignments and to the desired grade that you need to pass.
This is where custom writing services like SameDayEssay.com comes in. Services like this can handle these assignments on your behalf, but for a price. Let's find out whether this is the right service for you.
Best Academic Writing Services

SameDayEssay – Rating 3.3
Table of contents
Services – 4/10

There's no services page to be found on the Same Day Essay website, but you can find out whether the service has your assignment type ready to be made using the drop-down menu on the order form on the homepage.
As you can see, there are around 30-odd services in total with all the common assignment types you could want including essays, coursework and term papers as well as a few others like dissertations and theses.
However, it's worth noting that some of the leading custom essay writing services offer in excess of 50+ services, meaning that you may not be able to find what you're looking for.
Pricing – 3/10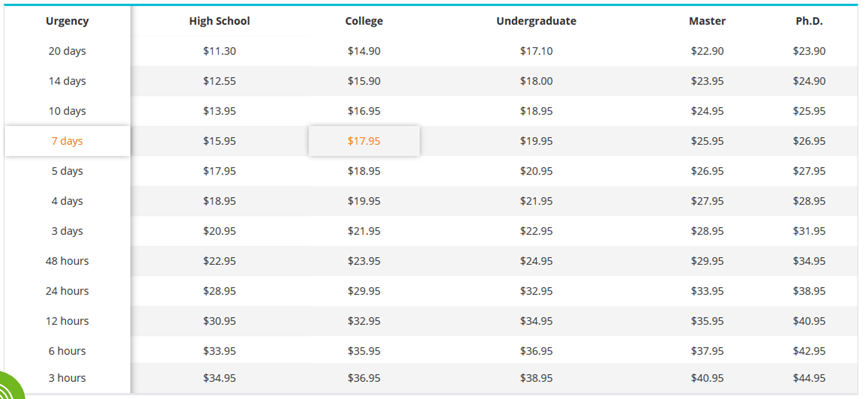 Although there is a pricing page on the website, it's easier to use the pricing calculator that you can find on the homepage. The price is determined by assignment type, the academic level required, and deadline preferred, times by how many pages or words you need your assignment to be.
As a rough guideline, a ten-page Master's essay, written with a 3-day deadline will set you back about $289. This is a huge amount of money and although not the most expensive, it's definitely not the most affordable and some students will struggle to use this as a regular service.
Quality – 4/10
There's no dedicated testimonials or reviews page to be found on the website, but there are a couple of reviews if you scroll down the homepage near to the bottom. However, these reviews are very short and don't really provide any valuable information on the service, just a simple 'thank you' or 'well done'.
With this in mind, I decided to see what I could find online. The reviews online would rather mixed, rating the quality of the site between 3 and 7 out of ten, quality being one of the lowest ranking aspects. Many complaints include that the essay written contains no creativity and will get you a pass, but a very basic one. However, most customers has been very upset that the company seem to refuse all kinds of refund.
Customer Support – 2/10

You won't be able to find a contact page on the website, but the information can be found on the SameDayEssay homepage. There's two US phone numbers, a request a call-back option and a live chat feature.
However, these are the only options available to you and getting in touch with the company when you need the most might prove difficult, especially if the phone lines are busy.
SameDayEssay.com review

Conclusion

Gloria Kopp

Overall, SameDayEssay.com has the potential to be a good custom essay writing service, but the quality of the content and service simply isn't there so far. With this in mind, it's highly recommended that you take your business elsewhere.
Rating:
3.3