As a student, if you're planning on using a custom essay writing service, you'll want to make sure that you're choosing one that provides you with the quality you deserve, the grades you need, the service you've been looking for and, of course, a price you can afford.
With 3DollarEssay.com, as you can imagine, the prices start at $3 per page, but this is far cheaper than any custom essay writing service out there, so how do they do? Is this a place you should be thinking about getting a good deal or should avoid at all costs? Let's find out.
Best Academic Writing Services

3DollarEssay – Rating 4
Table of contents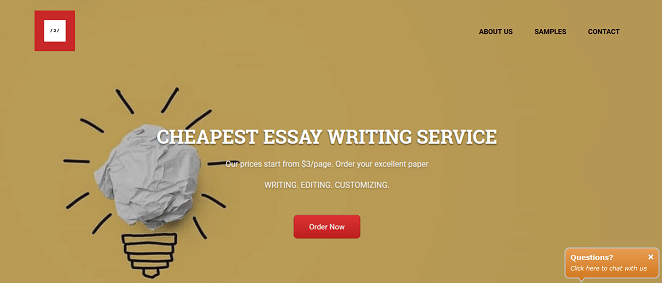 Services – 4/10
First up, it's worth noting that 3 Dollar Essay is an incredibly basic website with only several pages and a few bits of text. This leads me to seriously doubt the credibility of the website from the word 'Go'.
When it comes to services, there is no services page. The homepage simply states Writing, Editing and Customizing, not a comprehensive list of services anywhere in sight. The site offers a range of academic levels to choose from, as well as a range of subjects.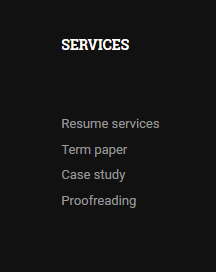 Pricing – 3/10
While the site offers its services starting at $3 per page, this is for the most basic high school-level paper. This is only because the high school academic level is available. If you're looking for some more advanced, such as college, university, Masters, or even Bachelor, you're going to need to take your business elsewhere.
In terms of pricing, if you're requesting an essay with a week-long deadline, you'll be paying the starting rate of $3 per page. However, if you need to change your deadline to something more urgent, such as a 24-hour deadline, you can be paying as much as $10 per page.
Content Quality – 4/10
Of course, with such a range of the available prices, you'll want to make sure that the content that you're receiving is consistent throughout. However, while there is a really basic sample page where can read some of the content for yourself, there is a complete absence of a testimonials or review page.
This leads me to believe that the website is illegitimate. Searching online in trust websites and review services, I found many customers had a hit or miss experience, some claiming the content was okay, although some editing was needy, others claiming this is one of the worst services they have ever used.
Customer Service – 4/10
With any business, you'll want to make sure that you're able to get in contact with the customer support team to make sure that you can talk about your order, should any questions arise. With 3DollarEssay, you'll find a limited hours live chat box, a Canadian phone number and a basic email address with email form.
However, none of these methods will provide instant connection to the support teams, and it may take days, weeks or months to hear a response, there's simply no way to know. This is not ideal if you require urgent assistance.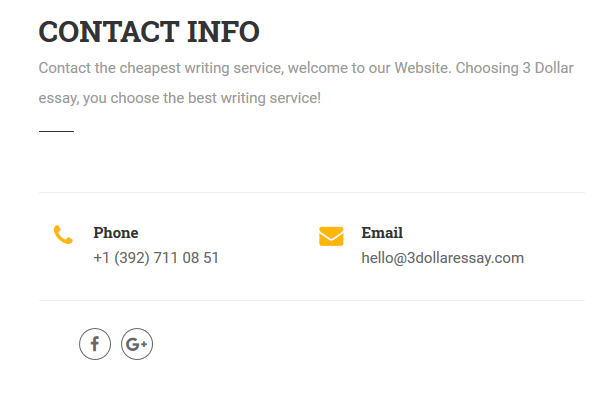 3DollarEssay.com review

Conclusion

Gloria Kopp

All in all, 3DollarEssay.com leaves a lot to be desired. With low prices, yet low-quality content, and a complete lack of comprehensive customer service offers, it's worth avoiding this service if you're looking for the best value for money.
Rating:
2