The life of a student is never an easy one. Each lecturer and class want to give you all the work and assignments they can which leaves you feeling as though you simply have no time to focus on anything else in your life. However, thanks to custom essay writing services, you can still get all the grades you need, and your work completed on time.
This includes sites like MyEssayService.com but, like all businesses in the world, you'll want to make sure that you're spending your money in the right places. Today, let's explore the ins and outs of this service so you can decide whether it's the service for you.
Best Academic Writing Services

MyEssayService – Rating 4
Table of contents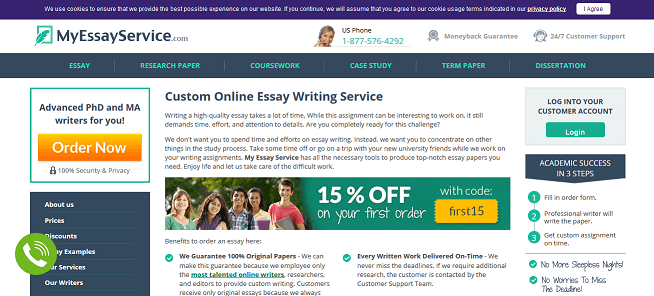 Services – 4/10
At first glance, you'll see just five services listed at the top of the homepage, a rather restricted collection of services to have on offer. However, head over to the Services page, or the Order page, and you'll see a collection of around 30+ services which should come together to give you all the options you could need.

Pricing – 5/10
Using either the Prices page or the Order Form at MyEssayService website you can accurately figure out how much you should be paying for your service. The price is calculated based on the service you want, the academic level it's written to and the preferred deadline. This price is then multiplied by the number of pages you want.
To give you a rough guideline on what prices are like, a standard essay, written to a Master's level with a four-day deadline will set you back around $27.95 per page. This is a huge amount of money and while not the most expensive service, it definitely isn't the cheapest.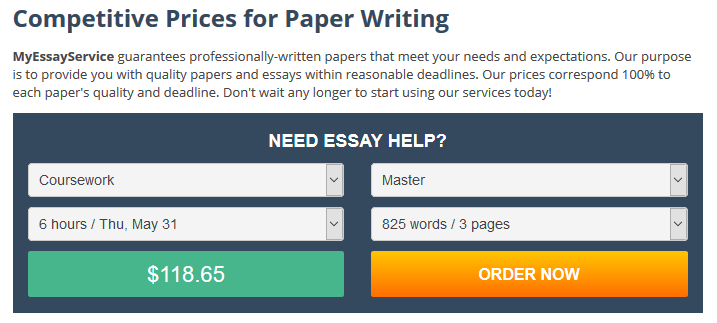 Content Quality – 5/10
For the price you're paying, you would expect the service to have a premium quality that is reflected in the price. However, this didn't turn out to be how the service works. While there are statistics on the site, such as a 96% satisfaction rate, there's no testimonials page anywhere to be found, nor any sources for these numbers.
On the other hand, searching through trust and reviews websites, I found a large collection of mixed reviews, many of which claimed the content they had ordered came in average written English.
Customer Service – 2/10
If you're planning to use My Essay Service, you'll need to make sure that you're able to get in contact with the customer support team in case you need them. However, there is a distinct lack of a contact page, and the only options available include a US phone number, an email form, and that's it.
There are no social media links, no live chat, no dedicated email address or international phone numbers, ensuring it could be extremely difficult to get in touch with someone when you need them the most.
MyEssayService.com review

Conclusion

Gloria Kopp

All in all, MyEssayService.com leaves a lot to be desired. It wouldn't be until improvements are made to the prices, the service availability, the customer support departments and the consistency of the content quality that I would be able to recommend this service.
Rating:
2