If you're a student, you'll know all too well the struggles of everyday life. Trying to hold down a part-time job while seeing your friends and family, attending lectures and trying to have enough time to spend by yourself doing what you want to do. As the year progress, you'll then have to add hours of assignments a week. It's easy to believe that there simply aren't enough hours in the day. This is why so many custom writing services have been set up. But which one to choose? Is TraditionEssaysOnline.com a legit company?
Best Academic Writing Services

TraditionEssaysOnline – Rating 5
Table of contents
Services – 6/10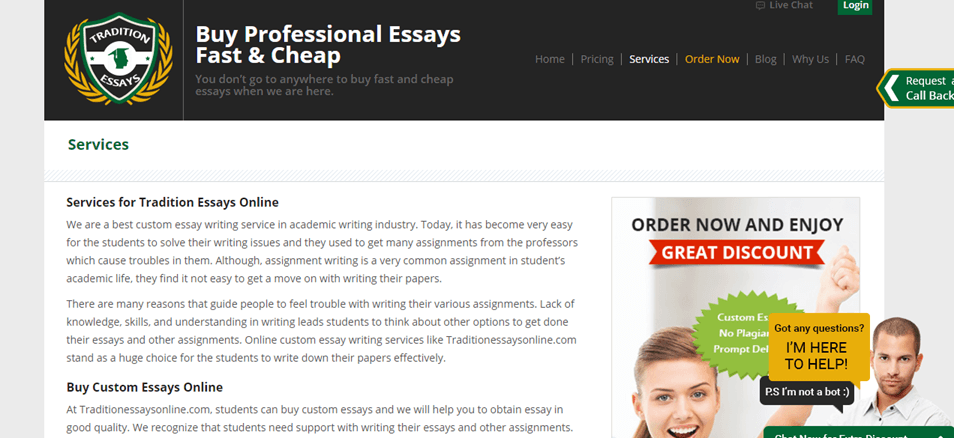 As the dedicated services page holds no valuable information on the actually services the site provides, it's difficult to know whether your required assignment type is accepted. Even when you go onto the order form, you have to enter your details before you can even select your assignment type. This leads me to believe they outsource most of their work. Besides, even if they don't fulfil your assignment type, they already have your personal details which the site doesn't say they keep secure.
Quality – 4/10
There is no dedicated reviews or testimonials page to be found on the TraditionEssaysOnline website. This leads me to seriously doubt the credibility and trustworthiness of the website. Searching online, I quickly discovered some very mixed reviews. Many had described the content they received to be below standard. In their assignments, they stated that there was a tonne of grammatical errors alongside poor sentence structure and poor English in general. There are also reports of high levels of plagiarism, late delivery and even resales.
Pricing – 5/10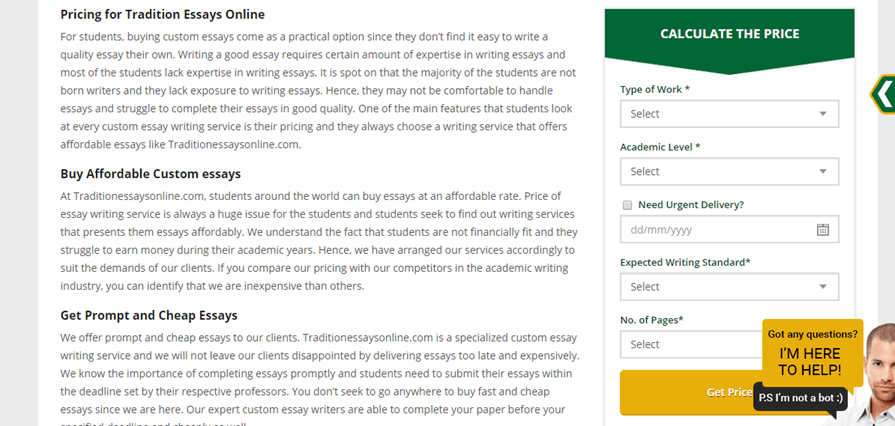 Using the dedicated form on the pricing page at Tradition Essays Online, you can see that a ten-page essay with a 48-hour deadline will set you back around $270. This is extremely expensive, especially for a student who's already living on a tight budget. When you consider all the essential extras you'll want to add that include plagiarism reports and a source lists, you can expect somewhere in the region of $350. This makes the website completely unusable as a regular assignment service.
Customer Support – 5/10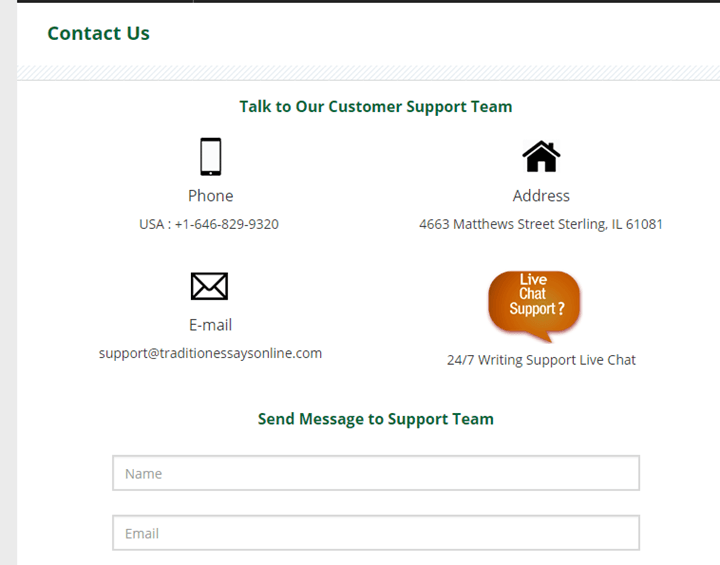 There are a handful methods you can use to contact the customer support teams. On the dedicated contact page, you'll find an address, a US phone number, an email address and an email form that you can fill out. There's always an automated live chat feature on each screen. As you can see from these methods, there's no international customer support making the website relatively unsuitable for any students outside the US looking for a custom writing service.

TraditionEssaysOnline.com review

Conclusion

Gloria Kopp

With sky-high prices, a lack of comprehensive customer support options and inconsistent quality of the delivered content, TraditionEssaysOnline.com has a long way to go before it could be considered a market-leading custom writing service. In the meantime, students look for an assignment website are much better off taking their business elsewhere.
Rating: 2.5