As a student in academia, you're probably already very familiar with the times of your life where you run out of time to complete a certain assignment, you don't have the information you need to get the grades you're after, or you simply have too much on your plate, and you're feeling stressed out and overwhelmed.
If this sounds like you, then you've probably been looking at the wonders that custom essay writing services like Top Assignment Service can offer. With the ability to write your assignment for you on your behalf, it's no wonder students around the world are enlisting help.
Today, we're going to take an in-depth look into TopAssignmentService to see what kind of service it has to offer and whether it's the right place for you to spend your money.
Best Academic Writing Services

TopAssignmentService – Rating 5
Table of contents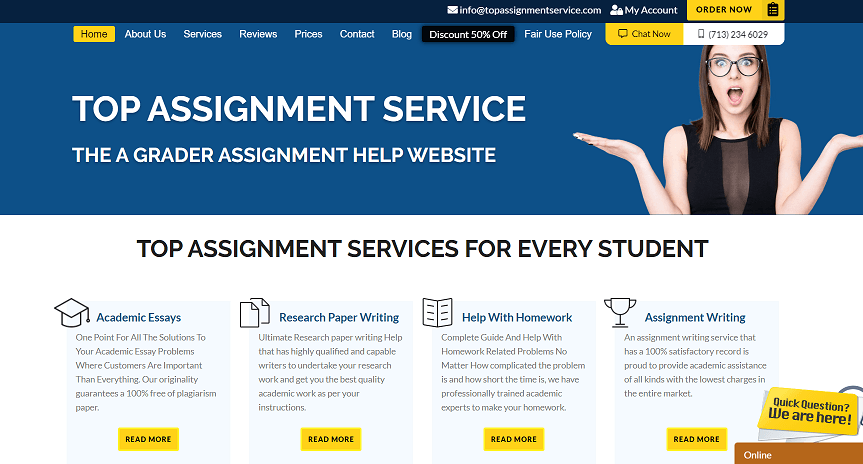 Services – 6/10
Checking out the actual services that TopAssignmentService.com has to offer, we discovered there are around 30 types of assignment writing service available, ranging from basic services like essays and reports to more complex services like dissertations and presentations.
There are also plenty of academic levels to choose from, ranging from high school up to Doctorate, and a broad range of criteria including citations, sources, formatting styles and more! While there are not all the services a student will want, most students should be able to find what they're looking for.
Pricing – 4/10
Using the pricing page, you'll be able to input what you want to find an accurate quote for the content you want. This is worked out on a price per page basis, and then you simply multiple everything up, depending on how many pages you want.
To give you a guideline on what prices are like, a standard essay written to a premium quality that's ten pages long, single-spaced with a three-day deadline will set you back around $410. This is perhaps one of the highest prices we've ever seen, and defiantly not suitable for a student on a budget.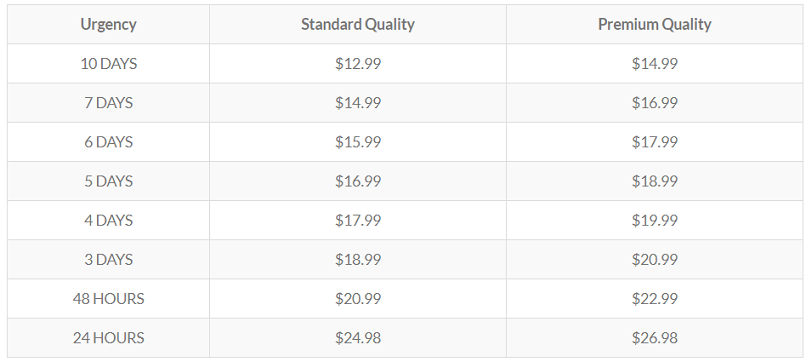 Content Quality – 4/10
While the prices are extremely high, you would expect the quality of the content to be professional level, which might even be what you're looking for if you need to get a certain grade for your finals, for example.
However, this level of quality isn't noticeable from the website. There are no testimonials or reviews from past customers, there are no samples for you to see for yourself, and there are next to no reviews online.
In fact, the consistent quality of the content remains a mystery, which doesn't bode well for the website.
Customer Service – 6/10
The last thing to look at is how well the company is going to look after you if you start using them. Heading over to the contact page, you'll find a basic email form, a UK phone numbers, and a bot-operated live chat, but that's it.
There's no email addresses, no indication that you're going to be responded too quickly, and no way you'll be able to know how quickly you'll get the assistance you need.

Conclusion
All in all, we were very disappointed with the service that Top Assignment Service has to offer. With sky-high prices and not a lot of information as to whether the service is any good, using the service is a risk you probably shouldn't take.
Rating: 5/10