With an initial glance, StudyBay.com gives the impression that it's a sleek, professional writing solution website that is suitable for both students and individuals looking for essays and other articles to be written. However, these initial impressions are short lived as I quickly discover a site with extreme prices, poor, unacceptable content and less than suitable customer service.
Best Academic Writing Services

StudyBay – Rating 6.2
Table of contents
Services: Where are the services?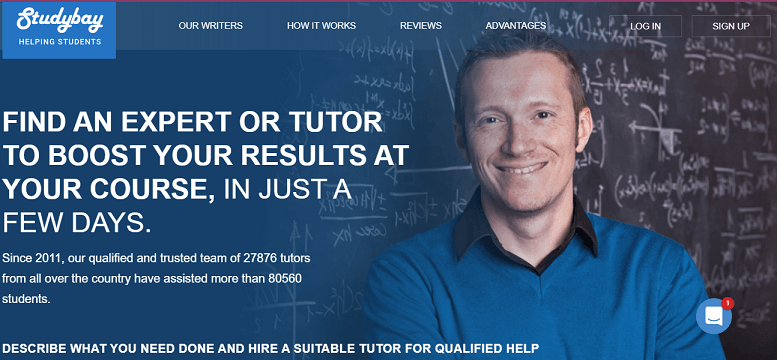 Unlike many of the market leading competitors, Study Bay is a platform for writers to bid for your work and business. This means that all you have to do is type in the name and type of document you want, along with your email address which is then posted for writers to bid for. Theoretically, this means you can ask for any kind of document to be written but without a predetermined list, you can never be sure.
Prices: Poor bidding system

As a platform for writers to bid, in my previous experience, this has always resulted in high, extortionate prices as you're unable to choose your starting price. As expected, this is exactly what happens on StudyBay. Having placed my order, in a matter of minutes, I had received over 35 unique requests for writers to complete my essay of a ten-page college level document on a legal topic.
These writers had not even had the chance to read through my requirements, leading me to believe they are spam posts and just looking to get my money. Bids ranged from $150 to as much as $500! This is simply not affordable for any student living on a budget and the pricing was truly reflected in the quality.
Quality: Poor as expected
For my test essay, I requested a middle ground writer who had proposed a $250 bid. Having received my document three days late, I was shocked to find that my essay was riddled with poor grammar and less than acceptable spelling mistakes. This instantly led me to believe that the writer was not a native English speaker and must have simply translated and edited the document using a basic online software.
Customer service: Rude and unhelpful

Having had such a poor experience with the website and the writer, I took to the customer service page to air my complaints. Firstly, I tried the live chat option on the site for instant results. Having spent a couple of minutes fully detailing my situation, the live chat operator replied three hours later, repeatedly asking what my problem was. This leads me to believe the live chat is operated by bots that are of no help.
I then proceeded to write an email and explain my issues, in which I received a reply stating that refunds and replacements can only be given in extreme circumstances, as noted in the refund terms and conditions, and that I would have to send off my document as proof. I send off my document and was told that my article did not match the refund criteria, despite it being extremely poorly written and not delivered by the proposed deadline. The member of staff was extremely blunt and not understanding at all.

StudyBay.com review

Conclusion

Gloria Kopp

To summarize, StudyBay.com has been a poor experience to say the least. Not only was the writing part of the experience completely unacceptable to any student or individual needing writing solutions, but the entire website is full of unhelpful and experienced people just looking for ways to get your money as quickly and easily as possible.
Based on this experience, I highly recommend customers taking their business elsewhere to some of the better sites that respect their clients and offer great service for a great price.
Rating: 3.1