Looking for a custom writing service that alleviates some of the student workloads, enabling you to focus on the more important things in life? This is exactly what SmartWritingService.com sets out to achieve, however, the site has a long way to go before it can be considered one of the best in the business.
Best Academic Writing Services

SmartWritingService – Rating 7.2
Table of contents
Website
When you first sign on to the website, you'll quickly notice the a relatively easy and nicely laid out website. With the exception of a dedicated services page, there are all the pages you would expect. However, upon closer inspection, you'll notice that most of the pages are filled with unnecessary filler content that is used to bulk up the website. This text basically rewords the fact they can complete your essays for you, over and over again. There is also a distinct lack of an order form on the homepage, meaning you have to troll through the website to make your order.
Services
Using the order form, you'll find that SmartWritingService hosts a small collection of available services. Although most of the most common assignment types are covered, there is an obvious lack of some of the more popular yet niche assignment types, meaning students looking for these services will have to look elsewhere. This makes the site rather unsuitable as a regular writing service.
Prices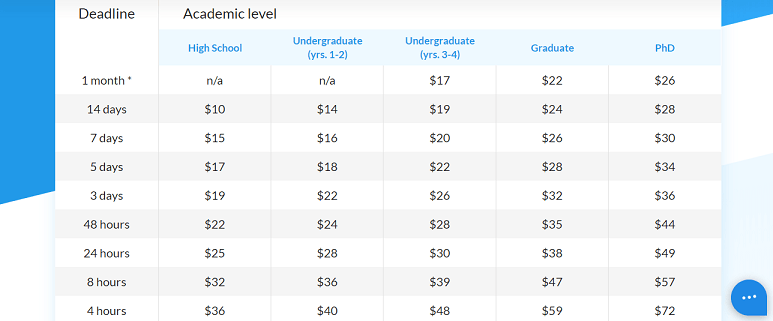 Referring to the pricing page, a 5,500-word essay written to a Master's level with a 48-hour turnaround time will set you back an unbelievable $640. This staggering price is nowhere near affordable for any kind of student and definitely not suitable for a student looking for a reliable and regular custom writing service. Furthermore, this is the price without any extras such as a copy of sources used (an extra $64) or samples from the writer themselves.
Quality
Unfortunately, there is no review or testimonials page on the website. This leads me to highly doubt the credibility of the website and means the site itself lacks the element of trust. Searching online, I quickly discovered a vast range of issues found previous customers. There were countless problems which people had complained about. The most common problem was content that was obviously not written by a native English speaker. One user even described the content has having been translated using a free online service, obviously not suitable for a student assignment.
Customer service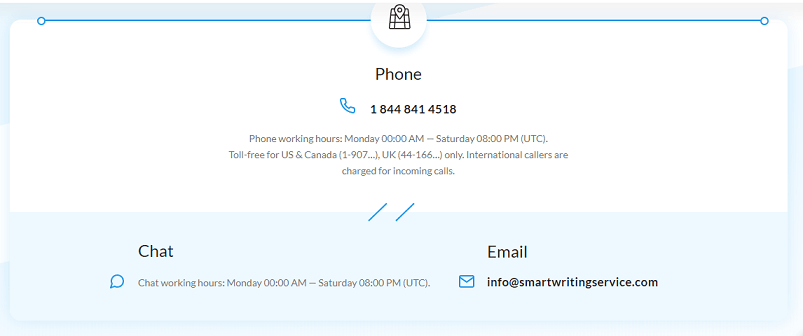 If you do decide to use the site, there are a couple of ways to you can contact the customer service team. The most efficient of these methods is the live chat option that can be found on every page of the site. For more instant assistance, you can use the United States or United Kingdom phone numbers. These are extremely difficult to find as there is no contact page. It's worth noting that there are no email addresses for students outside of these regions.

SmartWritingService.com review

Conclusion

Gloria Kopp

Smart Writing Service has a long way to go before it can be considered a leading custom writing service, or even a decent service for that matter. There needs to be a complete overhaul when it comes to the quality of the content and the price needs to become a lot more affordable. In the meantime, students looking for a custom writing service are much better off taking their business to one of the leading sites.
Rating: 3.6