When you're looking for an essay-writing service, you want a quick, reliable, and cheap site to handle everything for you and put your mind at ease. In our busy lifestyles today, the last thing you or I need to worry about is whether the site we've entrusted to write an essay for us will come through. So, I'm looking into QuickWriter.com on your behalf. Let's see how it performs.
Best Academic Writing Services

QuickWriter – Rating 3
Table of contents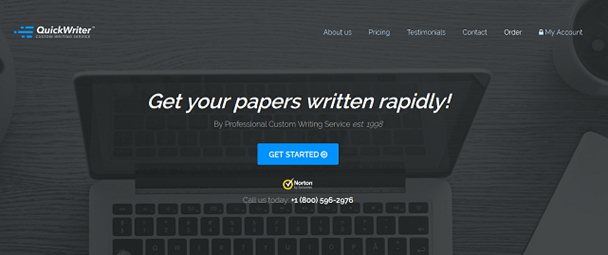 Services – 3/10
QuickWriter offer academic services, editing and formatting services, and also business writing services. They make a point of stating that they also serve short deadlines, as little as 3 hours. Because they require you to sign up for an account before letting you carry out a full quotation, it's difficult to say what exact services they provide.
Pricing – 4/10
For an academic paper at college level, with a deadline of 2 days, the cost would be $31.30 per page, or $219.10 for a seven-page paper.
This seemed like quite a high price to me, but it did come with some freebies, such as free reference pages, outline, plagiarism report, title page, and revisions. There were no other promotions or discount codes available that I could see on the site.

Content Quality – 3/10
Right away, I had a look at the testimonials page of the website. There were quite a few people offering praise for work completed, but there was very little information about these people. No dates were included, so the feedback could have been very old rather than current.
I also searched Google for any external mentions or reviews of the site but found very little. This suggests, contrary to what they say about how long they've been in business, that they are relatively unknown in the world of essay-writing and haven't had very many customers.
Additionally, I examined the text of the website itself. It had a fair number of typos and didn't appear to be written by a native English speaker. There was also a clear cultural misstep as they promote their services by saying they employ "Native American" writers when they meant US-born native English speakers.
Customer Service – 2/10
Quick Writer offers a live chat service, plus an email address, a toll-free phone number, and a Twitter account. However, there doesn't appear to be any physical address associated with the site, and the About Us section of the site is written in very generic terms.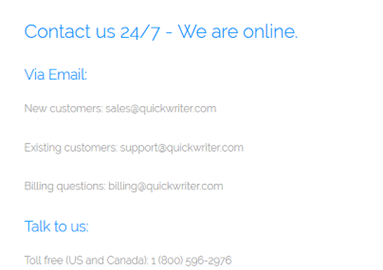 QuickWriter.com review

Conclusion

Gloria Kopp

So, would I trust the writers at QuickWriter.com to write an essay for me? To be honest, I'm not sure I'd get a quality product. I don't think they'd try to scam me or anything, I'm just not sure they are the right service for me, so I would look elsewhere.
Rating:
1.5