When you need essay-writing services, you want to be sure you're getting top-notch work for a good price. I wandered over to ExtraEssay.com website to see if I could review how their services, prices, quality, and customer service stack up.
Best Academic Writing Services

ExtraEssay – Rating 5.5
Table of contents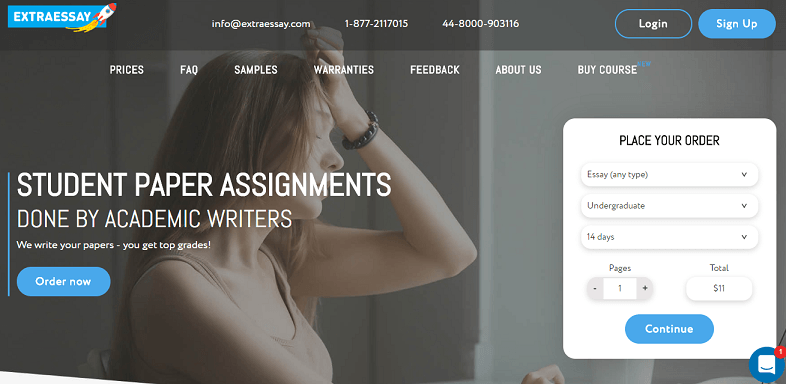 Services – 5/10

Extra Essay advertises about 16 different kinds of services, geared almost entirely toward students, from generic essays to resumes and cover letters, on their services page. This is fewer services than many sites do offer, and includes no business services. However, on the quote calculator, I could have requested a quote for a business plan or web design, or other things, which was a bit confusing.
Pricing – 6/10

There is no specific list of prices on the Extra Essay site, but there is a calculator available to get a quote, so that's what I did.
I asked for a 5-page essay at undergraduate level within 48 hours, and that would set me back around $90. I could also see a discount code for 10% off for my first order right on the front page of the site, which I thought made for a good promotion and would bring my quote down to $81. If I wanted extra services, I could add an Advanced Writer for 25% more, additional editing for 15% more, or digital copies of sources used for a flat fee of $9.99. They also offer free revisions if necessary.
Content Quality – 6/10
ExtraEssay does have a feedback page on their site, and it is full of praise for the writers and the service itself, with nothing below an 8 out of 10. They also have several video reviews with happy customers, and provide a selection of sample essays so you can see for yourself what you might receive.
I had a look through the samples and noticed some odd word choices that I wouldn't expect to see from native English speakers, as well as several typos, though they were on the whole well-written. I also searched the internet for reviews and was unable to find anything, so I'm a little unsure how well-known this site is, which makes me a little less willing to trust them.
Customer Service – 5/10

The site has a Live Chat system, as well as 24/7 support by email and a US phone number. It also has a Facebook page, though this is not linked from the site.
ExtraEssay.com review

Conclusion

Gloria Kopp

I felt the prices weren't too bad, though the services ended up being confusing. Because I wasn't able to find much in the way of discussion or reviews elsewhere, and due to the mistakes I saw in the samples, I would be very unsure about purchasing from ExtraEssay.com.
Rating: 2.7