Total Score: 3.8/10
In need of an assignment fast? Maybe you've completely forgotten about your upcoming deadline or simply don't have time to complete it yourself. Why should that affect your year's final grade? Services like Expert-Editing.org are on hand to create your assignments from scratch, but just how reliable is this website in getting you the grades you deserve?
Best Academic Writing Services

Table of contents
Website Services & Promises – 4/10

First signing onto the website, everything looks promising. The site guarantees that your assignment will be written by an individual who's a PhD expert (however not someone with a PhD) and you'll also enjoy free revisions of your work or your money back as well as 24/7 customer support. The site also states that you'll receive free formatting, plagiarism checks, email delivery (Thanks!) and free formatting.
Company Trust – 2/10
I seriously doubt the credibility and trustworthiness of ExpertEditing. On the website, there is absolutely no proof of website security, at all, and no form of verification as a website with their hosting company or any sign or proof of a secure payment system. With all this in mind, this isn't a website I would want to put in my personal and financial information.
Quality – 3/10
The reviews page leaves a lot to be desired. Not only do the reviews not have any dates or mention of the service that was completed, a quick search online says otherwise. There are a ton of reports of content and assignments that were delivered late as well as content that was delivered being extremely poorly written lacked structure and was full of typos and errors.
Prices – 4/10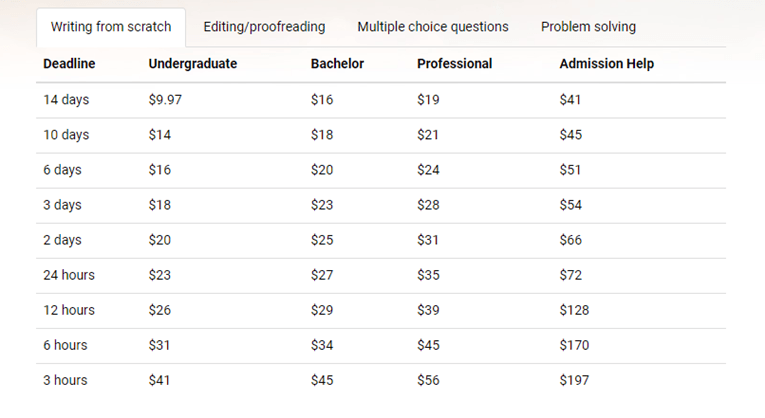 Unfortunately, things don't get any better. An average assignment would be a Bachelor level assignment with a 48-hour deadline that's 10-pages long (2,750 words). On Expert-Editing, this will set you back around $250. This is simply extortionate price and no student living on a tight or lucrative budget would be able to afford that.
Customer Service – 6/10

However, the site does slightly pull things around when it comes to customer service. There's a toll-free phone number for US students (however no international lines) and a featured live chat on every page. There's also a dedicated email support line for support only and even a Skype contact link so you can call or video the customer service team in person should you need them.

Expert-Editing.org Review

Conclusion

Gloria Kopp

To conclude, I highly recommend against using Expert-Editing.org. Not only is the content of the assignments the company are delivering poor, but they are also late and priced far too high for an average student to even consider purchasing. My advice, take your business elsewhere to a much more reputable and affordable writing service.
Rating:
3.8