Trying to find an essay-writing service that you can safely sign up for in the knowledge that it's not a scam or illegal? It's not easy to wade through the hundreds of sites, all offering different services, to arrive at a decision for the best site to use, one where you'll get a good deal, and where you feel safe. I'm writing this review for EssayOneDay.com in the hopes of finding out if it's a website worth its salt.
Best Academic Writing Services

EssayOneDay – Rating 5
Table of contents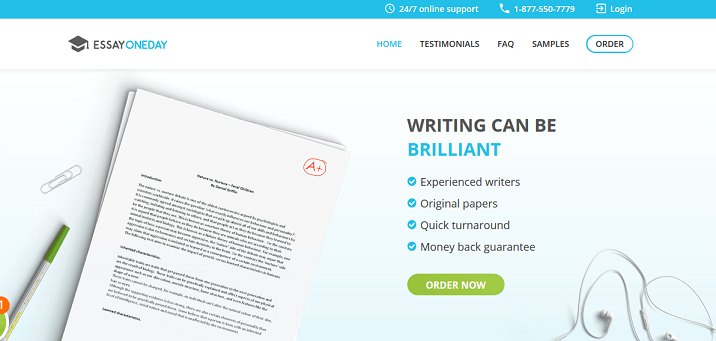 Services – 6/10
With no quickly accessible link to the services they provide, I had to go to the order form to get an idea of what they offer. They have about twenty different kinds of services available, ranging from the usual essay to book or movie reviews, and in grade level, from high school on up. They also offer a wide range of disciplines/subjects, from English to Anthropology.
Unlimited free revisions are included; however, they do charge $9.99 for a Plagiarism Report, $14.99 for an Abstract Page, and $14.99 for VIP Support. This all adds up rapidly and is mostly free with the better essay-writing services.
Pricing – 5/10
I requested a quote for an 8-page paper due in 3 days' time. EssayOneDay seem to be quite upfront about the fact that some of their writers are not native English speakers, as specifically requesting someone from a native English-speaking country added another $60.00 to my order. With my additional requests for a Plagiarism Report, an Abstract Page, and VIP Support, my total came to a whopping $299.97. This is far higher than I have seen on other similar sites, even with such short notice.
There were discount codes on offer, and I could've had 5% off my order with a code I could see on the site, with promises of more if I contacted support.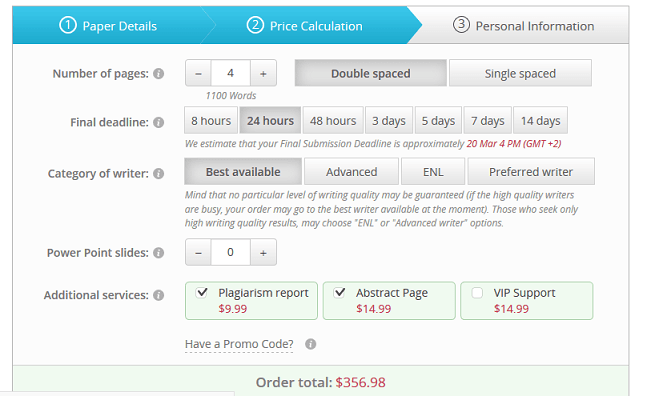 Content Quality – 4/10
So, are they legit, and do they live up to the high price? According to their testimonials, they do, and they state that their Satisfaction Rate is 9.5/10, with 99% of orders delivered on time. I went off to have a look externally to see if their comments matched the testimonials, and found mainly positive reviews. However, none of the reviews went into detail about the quality of the work, mostly just mentioning timeliness, which is only half the equation.
Last of all I had a look at their samples. I felt, after reading through several of them, that they were okay, but nothing special. If I were grading them, I'd probably give them Cs or Ds. Not really what you want for the money you're paying.
Customer Service – 5/10
Customer service can make or break a company so it's important to check it out before you commit. Essay One Day offers 24/7 online support, plus a phone number (not free) and an info email address. No social media accounts or any details about where the company is located.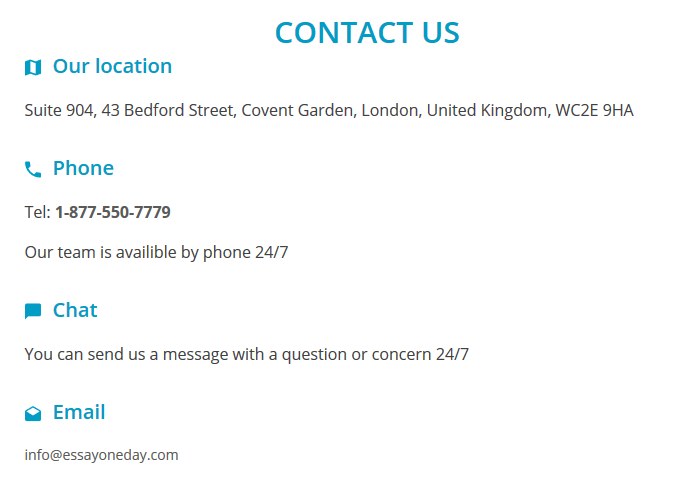 EssayOneDay.com review

Conclusion

Gloria Kopp

While the testimonials and the reviews may have sounded wild about EssayOneDay.com, I'm not so enthused. The sample works decidedly lacked sparkle and luster, and the price I'd pay for my essay is very high. I don't feel it's worth it to buy from them, and I'd be looking elsewhere.
Rating: 2.5