We all know the life of a student is a tough one. With so many things and aspects to consider, including social life, alone time, a part-time job, attending lectures, added assignments seem like they may be impossible to complete on time. Customer writing services such as Bid4Papers.com are here to try and alleviate some of that stress. With such a vast range of services available, does Bid 4 Papers make the grade?
Best Academic Writing Services

Bid4Papers – Rating 7.4
Table of contents
Website: 7/10
My first impressions of Bid4Papers are relatively disappointing. The website has a very cluttered look about with diagrams and tabs and it's a bit of a learning curve to figure out how to efficiently navigate the site. Many of the pages you would expect a custom writing service to have are present but there is a distinct lack of a services page, contact page and no testimonial or review page.
Services: 7/10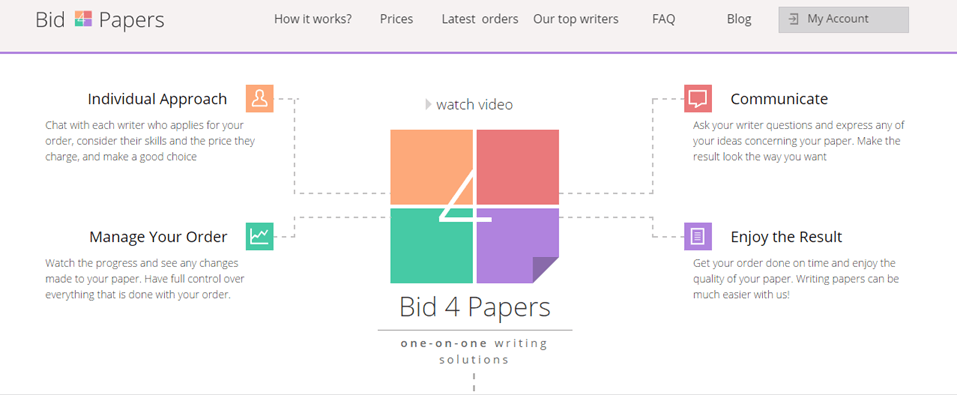 As the website operates a bidding system among writers, there is no services page as students simply type what they need into the order form which, in turn, connects to writers who then bid for your work. This a poor system to use as you may not be able to find an available writer who can complete your task to the highest quality. Likewise, you may find the best writer for your task, there really is no way to find out until you receive your final document.
Prices: 7/10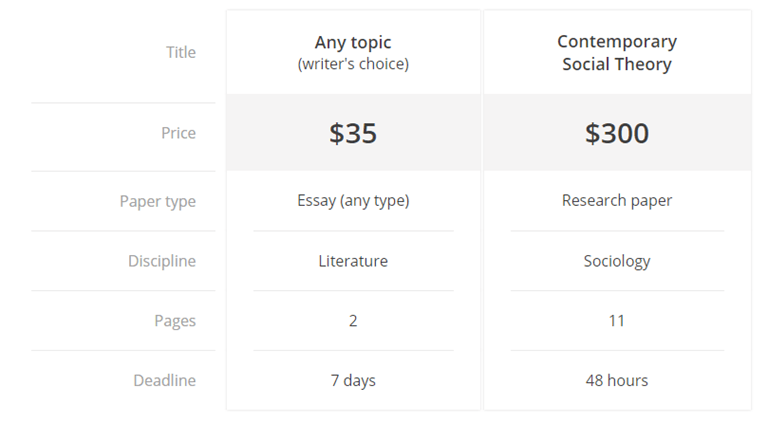 As the website operates a bidding system, this means that all writers tend to keep the price of work relatively high, meaning you have to pay out a lot more than you would if you were using a dedicated writing service. Referring to the pricing page, it states that an 11-page research paper with a 2-day deadline will set you back around $300, which is still a lot more expensive than other sites but this is just a quote. The writers may propose $400 as the lowest price and that could be the best you are going to get.
Quality: 8/10
As stated above, it really does depend on the luck of the draw. You can choose your writer based on a basic review system. You may choose the perfect writer who delivers the first time and is everything you want but on the other hand, you may choose a terrible writer who has never written on your subject before and really makes a mess, causing you to lose out of your money, the risk is always present.
Customer service: 8/10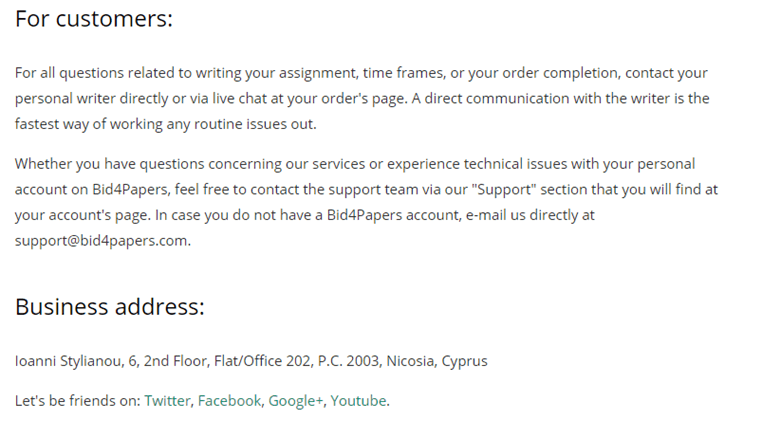 If you have a query about your work, you can contact the writer directly through your account page on the website. If you need to contact the company directly, you can by navigating to the very hard to find contact page where you can email or connect via one of the social media accounts. It's worth noting that the social media accounts do not seem very active. There is also no phone number or live chat system, meaning you will also have to wait for a reply.

Bid4Papers.com review

Conclusion

Gloria Kopp

In conclusion, Bid4Papers.com is set up to be a decent website. If the site implemented more control over the writers, instead of letting them work away relatively unmoderated and charging whatever they want, the site could be a good custom writing service. In the meantime, students are much better off taking their business to a more trustworthy and dedicated writing service provider.
Rating: 3.7