If you're looking for help on your school, college or university coursework and homework, you may have come across AssignmentHelp.net during your search for a viable solution that gets you the grades you want for before your deadline, and all for an affordable price.
However, since custom essay writing services began, there have been so many services join the market, so much so that it can be difficult to know which one is right for you. Today, we're going to explore AssignmentHelp, so you know whether this is the service you've been looking for.
Best Academic Writing Services

AssignmentHelp – Rating 5
Table of contents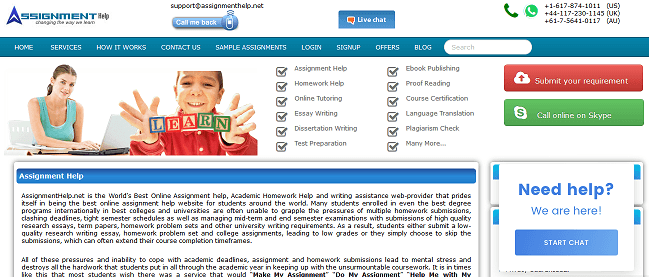 Services – 5/10
Using the dedicated services page, you can search to see whether the service you need is actually offered by the website. However, this is easier said than done since there's no clear list showing you what's available.
While the services page simply lists 'Assignment Help' and 'Essay Writing Services,' the banner of the website says there's more, so it's probably worth checking with the customer service team before placing an order and spending your money. If the lists are correct, the website does only offer ten services.

Pricing – 4/10
Unfortunately, there's no pricing sheet or page to make it easy to see how much your content is going to cost to write. Even if you fill in the order form, the website will email you your quote after you've already given them all your personal information.
This is an incredibly illegitimate way of running things since there's no foundation, so you can see whether you're getting a fair price, and even if the price is too high, they already have all your personal information, putting you at risk of spam and third-party companies.
Content Quality – 5/10
Along with the pricing page, there's no reviews or testimonials page to be found anywhere on the website, nor is there any reviews of the service easily found online. This leads me to believe either the reviews are negative, or the website simply isn't used by anyone.
However, there is a sample page available where you can check the quality of the content yourself. Nevertheless, clicking through a few examples shows the content is basic at best, and there are plenty of mistakes which are commonly made by non-English speaking writers. The actual information of the content is below average.
Customer Service – 6/10
If you do find yourself wanting to use the AssignmentHelp service and you wanted to find out more, or you have used the service, and you want to make an edit to your order, ask a question or even request a refund, you're going to need to be able to get in touch with them.
However, this is easier said than done. There's no dedicated contact page so you'll need to hunt around for the best contact method for you. Nevertheless, there are phone numbers for multiple countries, social media links, and even a live chat feature, making it easy to contact them.

AssignmentHelp.net review

Conclusion

Gloria Kopp

Whereas the customer service options and availability is a lot better than many custom essay writing services out there, the lack of quality and reviews, and the mysterious pricing system, you may be taking a risk by using AssignmentHelp.net.
Rating: 2.5