Looking for an assignment service to help you complete your work on time and get you the grade you deserve? Don't worry; you're not alone. In fact, this kind of request has become so popular that a ton of custom essay writing services now exist to help you and provide this service.
However, the problem arises when you don't know which one to choose. Today, we're going to focus on Homework-Writer.com, taking a detailed look into the site to see whether this is the safe, legal and legit site you've been searching for.
Best Academic Writing Services

Homework-Writer – Rating 5
Table of contents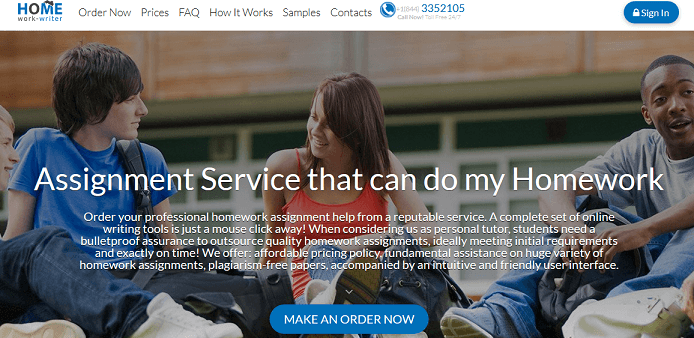 Services – 4/10
While there's no dedicated services page on the website, you can find out whether your required assignment type is offered based on the selection in the order form on the homepage. However, here you'll only find a selection of three services; Writing, Editing, and Presentation.
This is broad at best, and as any student will know, writing a certain type of academic assignment requires a certain skill set and knowledge on the assignment type, and can't really be classed as just 'writing.'
Pricing – 5/10
You can work out the price-per-page of your required assignment based on the information on the pricing page, or by using the pricing calculator of the order form. Unfortunately, there's no data saying what is included with your price, and you can only assume you will just get your assignment, and that's it.
To give you an idea on what the pricing is like: a University writing task with a 5-day deadline will set you back around $22 per page. While this is not the most expensive service online, it's definitely not the most affordable, rendering it unsuitable for student shopping on a budget.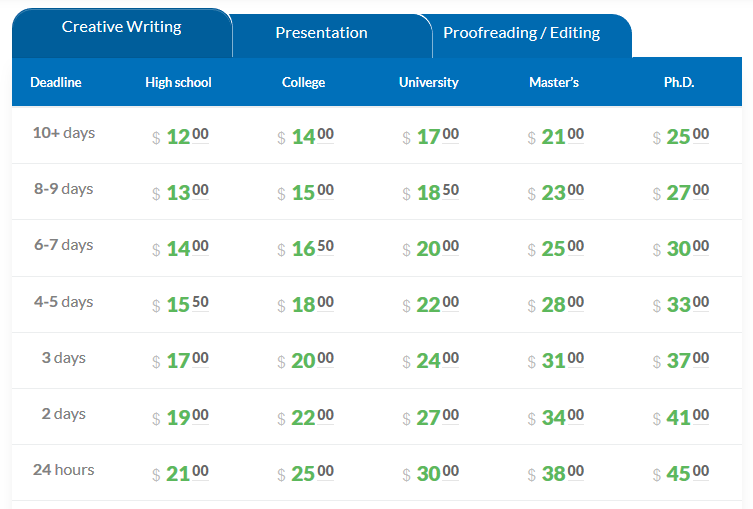 Content Quality – 6/10
I was surprised to see that there are no testimonials or reviews page to be found anywhere on the Homework Writer website. While there is a selection on the homepage, these are obviously faked (you can tell by the photos of the 'students') and there's no date, which means there's no way of knowing whether they're recent or years old.
There is, however, a samples page, so you can read through some examples of the content yourself. The content, in short, is not that great. The information included here is basic and can be easily found online, and the way the content is written is again basic and not particularly professional.
Customer Service – 5/10
If you need to get in contact with the Homework-Writer company, perhaps to ask a question, edit your order, or even to request a refund, you're going to need their customer service team. However, there are limited options available to you.
While there is an automated live chat service, a US-based phone number, and email contact form on the homepage, this is all there is. There's no social media links, no Skype link, no international support, and no way of knowing how long the company is going to take to get back to you.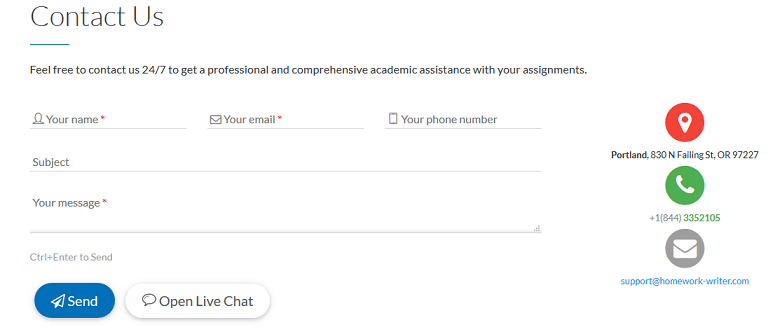 Homework-Writer.com review

Conclusion

Gloria Kopp

To summarise, Homework-Writer.com seems like a professional custom essay writing service, but there's a lot of room for improvement. For the average student, the prices just seem too high, and the contact options available are limited, meaning if you choose to use the service, you do so at your own risk.
Rating: 2.5