Marketed as a 'fast and reliable' essay writing service, it's no wonder students around the world are drawn to FastEssay.com to complete their written academic work on their behalf.
Priding themselves on being one of the fastest essay writing services with the ability to deliver a full piece of content in less than an hour, let's explore the ins and outs to discover whether it's the right service for you.
Best Academic Writing Services

FastEssay – Rating 3.0
Table of contents
Services – 3/10

One of the biggest initial downsides to Fast Essay is the fact you have to input your email address before you even have a chance to see what services are available. There's no dedicated services page. Once through, there's a collection of around 20 services to choose from.
This list contains many of the main assignment types you'd expect, such as essays, research papers and presentations. However, when you consider that the leading services offer 50+ services, some students may not be able to find what they're looking for.
Pricing – 2/10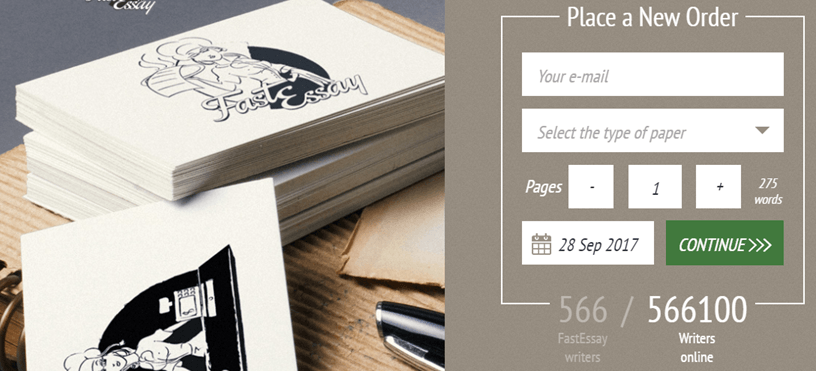 There's no dedicated pricing page on FastEssay. Instead, you place your order, and it will be promoted the database of writers that the website has. Then, the writers will bid for your work, and you can simply choose the best for you.
This is an incredibly poor way to operate a service as many of the writers will bid high prices so you'll always be charged more. Typically, you'll be looking at spending around $200 for a 1-hour delivery essay.
Content Quality – 3/10
Since the website operates per writer, it's hard to judge the quality of the content since every writer is different and there's no dedicated testimonials page. Searching online, I quickly discovered many customers had had a poor experience with the website.
Many complained that their writer hadn't lived up to their expectations and the content they received was riddled with mistakes. There are reports of bad grammar, typos, spelling mistakes and some even described unacceptable levels of plagiarism.
Customer Support – 1/10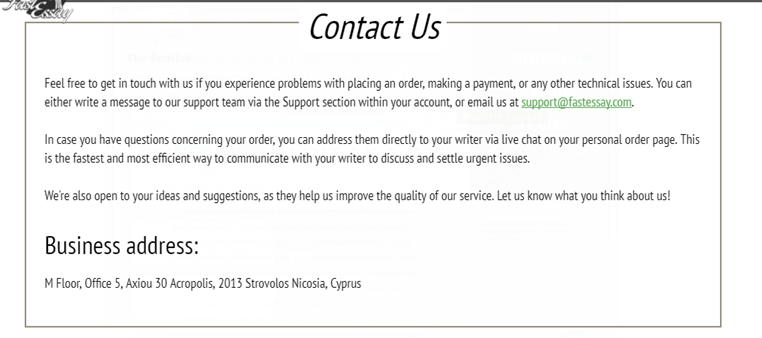 The majority of the communication you will have is with your chosen writer. However, what if your writer goes silent? If you wish to contact the company, you can head over to the contact page on the website, but you'll be disappointed.
On the page, there's simply a physical address and an email address, and that's it. There's no email form, no phone numbers, no live chat and no social media links. This will leave many students left out in the dark, especially if they have a tight deadline since sending a letter or waiting for a reply will take far too long.
FastEssay.com Review

Conclusion

Gloria Kopp

Overall, FastEssay.com isn't all it's cracked up to be. With a complete lack of dedicated support, inconsistent quality in the content and potentially sky-high prices, students will be far better off taking their business to a leading essay writing service that values their customers and provides high-quality content.
Rating:
3