EssayTigers.com claims to be an affordable essay writing service that's designed to make your life as easy as possible.
One of the biggest selling points of the website is that it's a hassle-free service that allows the students using the service to relax and enjoy some well-deserved time to themselves, without having to worry about overhanging deadlines and assignments.
Like many students, I find this a very tempting website to use but, you still need to sure. So, to help you make the right decision, here's everything you need to know about Essay Tigers.
Best Academic Writing Services

EssayTigers – Rating 3.0
Table of contents
Services – 3/10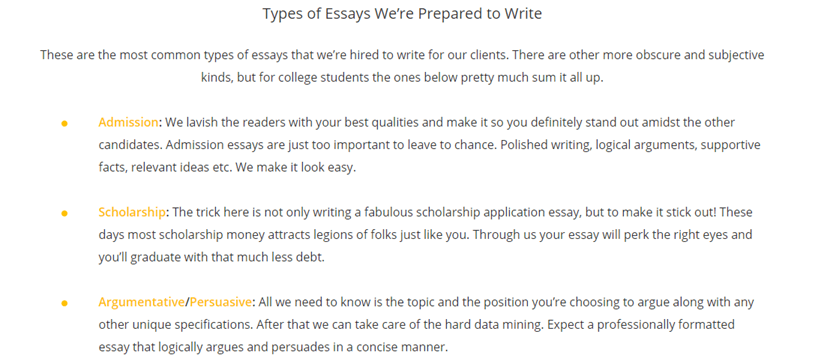 Using the drop-down 'services' menu at the top of the page, it's easy to see that Essay Tigers only offers four services to choose from. These are; essay writing, academic writing, business writing and homework help.
When you consider that many of the leading custom essay writing services offer around 50+ services, this four can feel very restrictive. However, the four services that are available are available at three academic levels, eight deadline preferences and unlimited pages.
Quality – 2/10
I have some quite serious doubts about the quality of the content that EssayTigers produces. This is because the testimonials page doesn't have any comprehensive reviews, just a collection of single sentence reviews. However, they are all dated and have all the information you would expect a real review to have.
On the other hand, I searched online for answers on forums and review websites which told a different story. Here, I found that many past students who had used the site had experienced late deliveries and poorly inconsistent content that wasn't suitable for an academic hand-in.
This also meant that students had to go over the work that they had paid for, proofreading it and making sure it was right, even though this should have already been done. The positive to negative review balance is about 40/60.
Prices – 4/10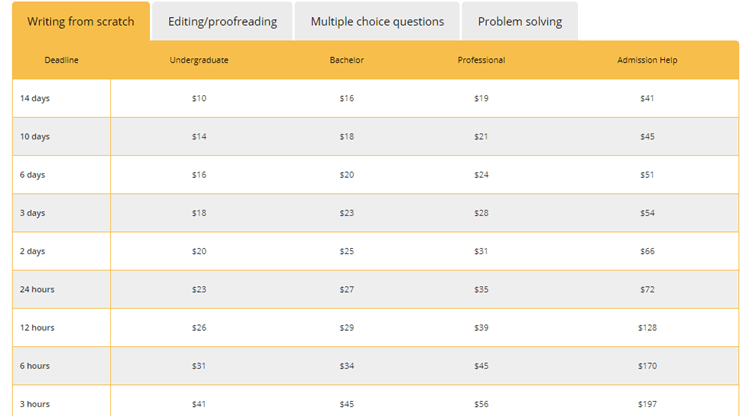 There are two ways you can work out an accurate quote for your work. You can use the table on the dedicated pricing page, or, alternatively, you can use the live price calculator to work out an 'appropriate' price for your assignment.
To give you a rough idea of what these prices are like, a Bachelor quality essay that's ten-pages long with a deadline of three-days will set you back around $230.
This is an extortionate amount of money, and there's no way a student, like myself, would be able to afford this living on a tight budget. Likewise, it's always good to find a custom essay writing service you'll use again because you can find discounts, something that will still be too expensive here.
Customer Support – 3/10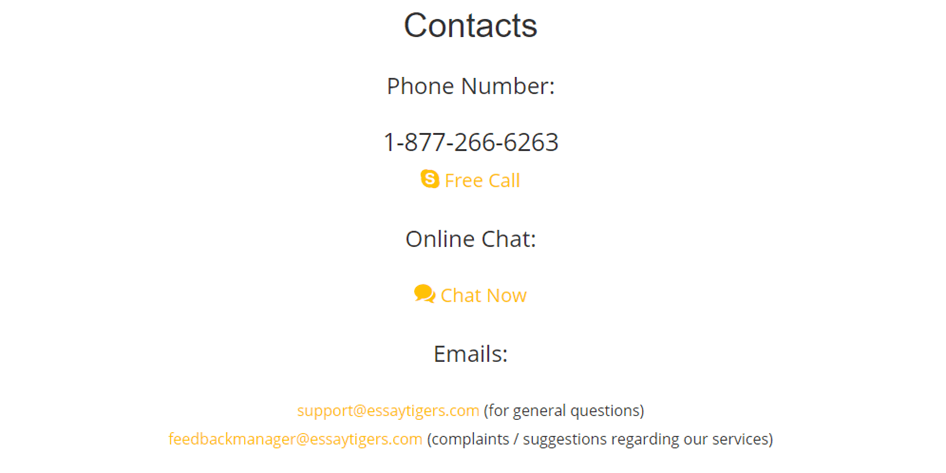 Although there is no contact page, you can find all the customer support options at the bottom of the homepage in the footer of the website. Here, you'll find a physical address, basing the company in the US, a US phone number, a dedicated support email address, Skype contact and a free online live chat service.
This should make it very easy for you to get in touch with the company, both pre and post sales.
EssayTigers.com review

Conclusion

Gloria Kopp

All in all, I had a below average experience with EssayTigers.com. Despite the comprehensive support options, the quality of the actual work is far too inconsistent, and the pricing is ridiculous. With this in mind, I highly recommend that you take your business elsewhere.
Rating:
3