Is Dopessays.com really as dope as they say they are? When you want to hire an essay-writing service, you want to know they'll give you the best. I went to check it out so I could let you have the real dope on this particular essay-writing service.
Best Academic Writing Services

Dopessays – Rating 3.3
Table of contents
Services – 5/10

Dopessays just offer three kinds of services: essays, PowerPoint presentations, and research papers, at education levels all the way from high school to PhD level. This is a very narrow range of services considering that most similar sites offer up to fifty different kinds of services. There are also no services whatsoever for businesses; everything is for students only, making it impossible for you to graduate and then carry on using the site when you start work.
Pricing – 3/10

Dop essays' pricing can be found on their Order Now page. I priced up a five-page essay at college sophomore level, double-space, cited according to the Chicago format, with a deadline of two days, and it came to $90.00, which is roughly on a par with other similar sites. The site accepts Paypal only.
The quote form also has a field to enter in assignment details, a way to request a number of sources, and the ability to attach two uploads to your request. They ask for your email address to send the final essay to and a phone number for urgent requests. They also have a space to enter in discount codes, but I didn't see any promotions on the site itself.
Content Quality – 2/10
The site confirms they will offer a free plagiarism report, along with a free grammar and editor's report. They don't have any testimonials on their site, but when I searched Google for reviews, I did find several reviews, some very positive, and some that were mixed.
I also checked out the samples page on the site and found quite a few typos in the samples provided which the grammar reports hadn't caught. Also, the samples were from quite short research papers, and they didn't seem to be particularly in-depth or specialist. It seemed to me that some of the work might be done by English speakers who weren't native.
Customer Service – 3/10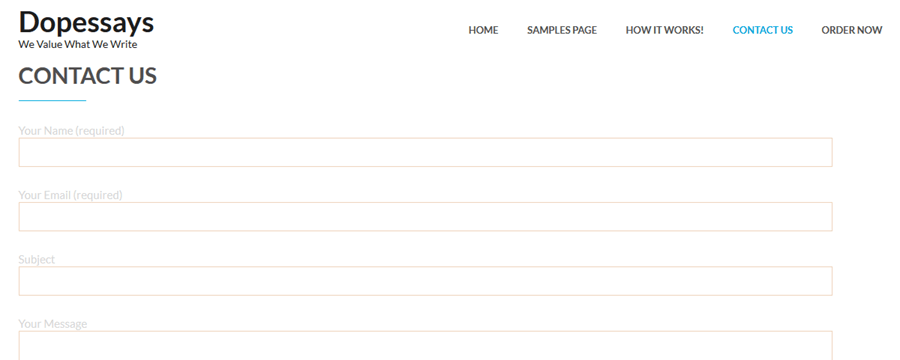 Dopessays have a live chat system (which sometimes is offline), a Contact Us form, and a support email address, though no support phone number. They are based in the United States.
Dopessays.com review

Conclusion

Gloria Kopp

The straight dope is basically this: Dopessays.com offer a limited range of services, their customer service isn't 24/7, and their work appears to be hit-and-miss. I personally would want to choose a service that could offer me a lot more than dopessays.com, and which would be there for me night and day.
Rating: 1.7