At first glance, DoMyEssays.com look like your average custom writing service. There's the traditional layout that you'd expect as well as the classic order form on the homepage to get you started quickly and easily. However, with so many custom essay writing services to choose from, it's important to know that you're picking the right one for you.
So, to make sure that you're happy using this service, here's a run-down of Do My Essays and what this service really looks like underneath its glossy front.
Best Academic Writing Services

DoMyEssays – Rating 3.2
Table of contents
Services – 3/10
It's easy to find out which services the company offers using the drop-down menu on the order form on the homepage. Alternatively, you can check out the services page in the navigation menu at the top of the page.
Within this list of services, you'll find all the standard services you would expect, from a standard essay to a term paper. However, there are only around 25 services in total, leaving out some of the more unique yet essential assignment types that will leave some students already having to use another service.
Prices – 4/10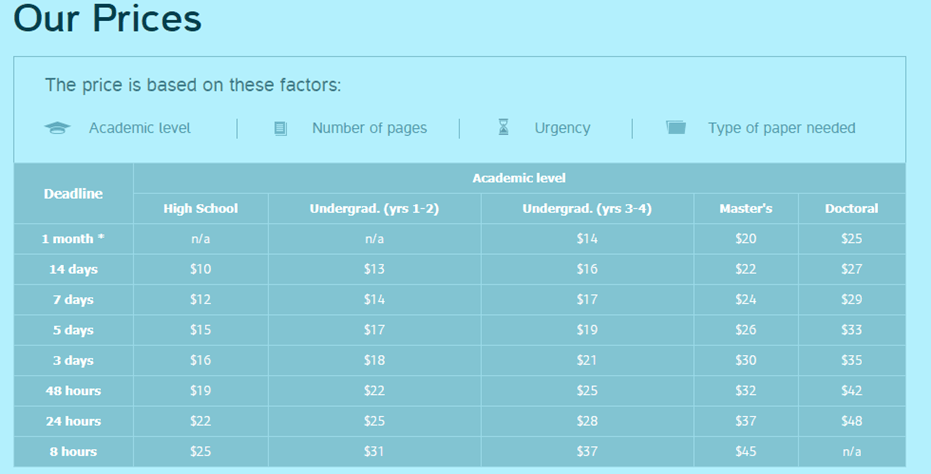 You can figure out the price of your chosen assignment by either progressing through the order for an accurate quote or by using the dedicated pricing page. On DoMyEssays, you pay per page, the price dependant on your preferred deadline, the number of pages and the academic level.
As a rough guideline, a ten-page essay with a three-day deadline, written to a Master's level, will set you back around $300. This is an extortionate amount of money to pay and far too expensive for most students living on a tight budget.
Content Quality – 2/10
Although there are sample pages on the website on the kind of content that the service produces, there is no dedicated review or testimonial page, and therefore it leads me to doubt the credibility of the website.
In search of answers, I took to the internet. Online, I quickly discovered a tonne of past reviews for previous customers stating how the content of the assignment they received was extremely poor quality, riddled with mistakes such as spelling errors and typos as well as unacceptable grammar.
Customer Support – 4/10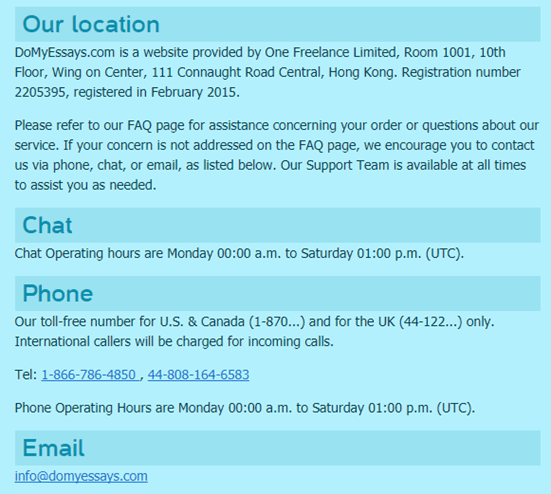 There are several ways you can contact the company should you need ordering assistance or support after you've made your order. Using the contact page, you'll be able to find a physical address (although this isn't much help for urgent assistance), a live chat system that operates during restricted hours during the week as well as two phone lines that are dedicated to UK, USA and Canadian users. There's also a single email address to handle all queries, rather than dedicated channels.
DoMyEssays.com review

Conclusion

Gloria Kopp

All in all, DoMyEssays.com has a lot of potential to become a leading essay writing service. However, the service still has some major flaws that need to be resolved, and until these are made, I highly recommend taking your business elsewhere.
Rating:
3.2