When it comes to writing a dissertation, it's safe to say that this is one of the biggest challenges that students will face during their academic life. It's all about getting the content perfect, the writing accurate and making an impact on your reader that will give you your career-defining grade. However, many students are turning to custom dissertation writing service to help them achieve this accuracy, whether it's proofreading, correcting, editing or even writing from scratch. On your hunt for the best service, you may have stumbled across 123Dissertations.com. Let's find out whether it's right for you.
Top Rated Dissertation Writing Services

123Dissertations – Rating 3.5
Table of contents
Services – 5/10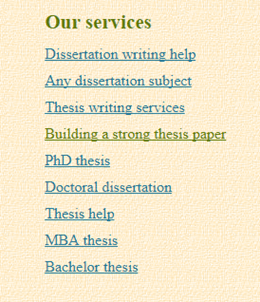 As the title suggests, this website, unlike other custom essay writing services, only deals with dissertations. You can have your dissertation written from scratch; you can have it proofread, edited or have a custom writing guide prepared for you that you can follow when writing your dissertation.
Prices – 4/10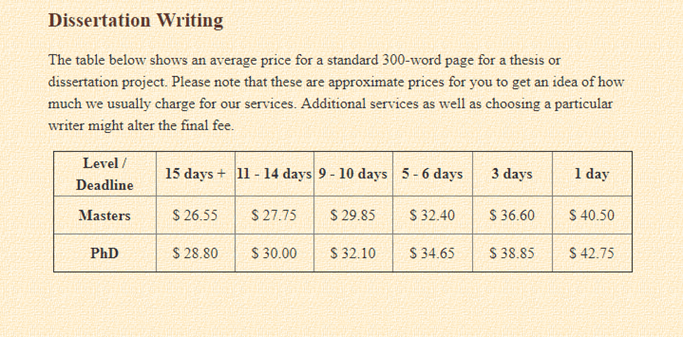 The pricing of 123 Dissertations is based on the academic level of either Master's or PhD, the deadline that you need and then times how many pages you want. As a rough guideline, a Master's dissertation that's ten-pages long with a 5-6-day turnaround time will set you back around $320.
This is fairly high for a dissertation writing service, but it's not the most expensive, but there are more affordable services out there. With this in mind, it will solely depend on your budget and how much you're willing to spend.
Content Quality – 3/10
I was extremely disappointed by the collection of reviews that are on 123Dissertations. Although the reviews are shining, there are no dates or indication of what service was provided. This means the reviews could, in essence, be fake or could be years out of date.
Searching online, the reviews are a little less rewarding. Many past students have complained about the poor quality of the content that the website provides. There are reports of a tonne of spelling mistakes in the content, poor-quality grammar and a tonne of issues when it comes to plagiarism and resales.
They are also many claims that the content isn't be written by native English speakers as promised.
Customer Service – 2/10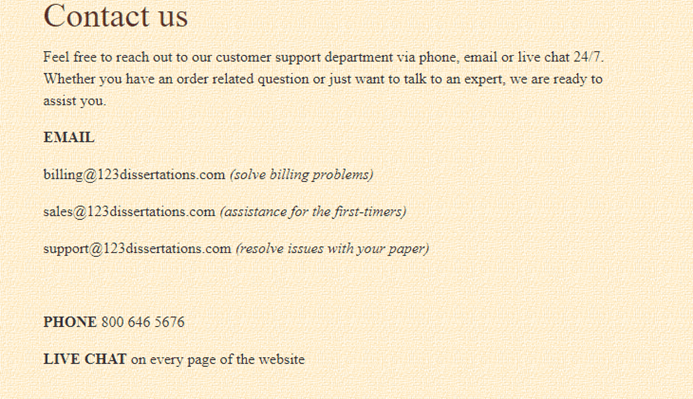 The customer service options on the website are very limited. On all pages of the website, you'll find single US phone number and head over to the contact page; you'll find three dedicated email addresses.
There's also a live chat feature available on all pages of the website, but this is it. There are no links to social media pages, no phone numbers for international users and no video or voice communication platforms, such as Skype, that leading website typically provide.
123Dissertations.com review

Conclusion

Gloria Kopp

In all, I was felt very let-down by the experience that 123Dissertations.com provides. With high-prices, a lack of high-quality content and a complete absence of alternative and comprehensive customer service options, I highly recommend that you take your business to a more reputable dissertation writing service.
Rating:
3.5